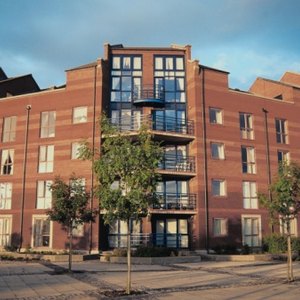 •••
Jupiterimages/Photos.com/Getty Images
The U.S. Department of Housing and Urban Development has several low-income rental housing programs. These programs allow tenants to live in affordable housing units at a reduced rate. HUD's Public Housing program and the Section 8 Housing Choice Voucher program provide a rental subsidy to income-qualified tenants. However, the programs have different restrictions on the participants. You can contact the public housing authority in your area to find out how to apply for help for both programs.
Low rent housing units allow approved applicants to live at a reduced rate, paying just 30 percent of their income toward the rent. Section 8 housing vouchers can be used anywhere to help pay rent, as long as the homeowner or apartment owner has been approved by HUD.
Low Rent Housing
Low Rent housing refers HUD's Public Housing Program. Public Housing is federally subsidized housing units. All the tenants that live in a federally subsidized housing building pay 30 percent of their income toward the rent.
Some Public Housing buildings are for seniors or people with disabilities. These buildings typically offer the residents additional services such as a meals program or transportation services. Once a tenant moves out of the Public Housing building, she will no longer receive a rent subsidy unless she moves into another federally subsidized unit or obtains a Section 8 voucher.
Section 8 Voucher
The Section 8 Housing Choice Voucher Program also provides a rental subsidy to low-income households. The renter is responsible for paying 30 percent of their income toward rent. HUD pays a portion of the rent for tenants living in conventional housing with a Section 8 voucher. The goal of this program is help low-income families integrate into mixed income housing. As long as the tenant is eligible for a subsidy, he can continue to receive a rental subsidy.
Income Limits
To qualify for a Public Housing unit, the total household income cannot exceed 80 percent of the area median income. The Section 8 Housing Choice Voucher Program is more restrictive requiring the applicant's income to be equal to or less than 50 percent of the area median income.
HUD also requires that Section 8 program administrators target families in the extremely low-income limit level, or 30 percent of the area median income. Families in this income level receive admission into the program before households in a higher income bracket.
Application Process
The housing authority accepts applications for both programs. If housing or a voucher is not immediately available, they may place you on a waiting list. Some Public Housing facilities maintain their own waiting list.
The housing authority maintains the waiting list for Section 8 applicants. Once the Section 8 program accepts an applicant, she has to locate a housing unit. The property owners may conduct their own background check on the tenant for suitability.
References
Writer Bio
Davina Price has been writing since 2003, specializing in grant and technical writing for government and nonprofit organizations. She currently is a licensed real-estate agent in Southern California and specializes in working with first-time home buyers. She holds a Bachelor of Arts degree in communications from the University of Southern California.