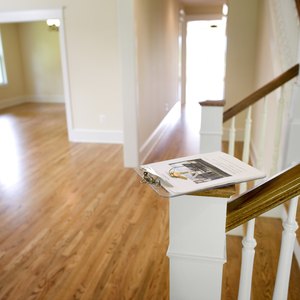 •••
David Sacks/Photodisc/Getty Images
The Department of Housing and Urban Development provides guidance for entrepreneurs interested in creating their own property preservation company. Property preservation companies maintain houses and apartment complexes that have either fallen into foreclosure or are soon to be foreclosed upon. These companies also are responsible for inspecting properties, managing renovation permits and restricting access. Companies that work in compliance with HUD guidelines can take part in a business model that offers valuable services for both the agency and for their local communities.
Property Preservation
Property preservation companies act on behalf of banks and mortgage loan providers to maintain empty properties in a secured, safe and appealing state both internally and externally. The company employs contractors to assess and write up possible damages or problems. This report gives the company a guide on issues that must be dealt with quickly and efficiently. Property preservation firms help their clients through each step, from loan default through property foreclosure and conveyance.
Preservation Services
Companies typically follow HUD guidelines if the mortgage loan type does not come with any applicable regulatory guidelines. HUD guidelines cover a wide range of services involved in property preservation. The guidelines include procedures on securing the property and its accessories, including any spas, pools or outbuildings on the site. Depending on the guidelines for the site location and loan type, any broken windows may either need to be boarded or reglazed. The guidelines also cover winterization, lawn maintenance, lock changes and trash removal..
Property Registration
Entrepreneurs interested in property preservation for HUD must start by paying the registration fee for each property. Business owners can receive a reimbursement on this fee after completing the proper forms and submitting them to HUD officials. The property preserver then must inspect the site and meet with contractors to determine if any repairs are needed. Property preservers also must ensure that the property can sit unoccupied for a lengthy duration. This includes taking any necessary measures to prepare the property for any inclement weather events, such as thunderstorms, blizzards and high winds.
Limits and Permits
HUD guidelines also require that property preservers have all the correct permits in place before beginning their efforts. These permits can range from trash disposal to lawn maintenance, each of which carry fees payable to local government entities. Failure to acquire the proper permits can expose the property preservers to legal liability. HUD also lists the amounts it will reimburse the property preservers for their work. Property preservers must check these lists and calculate their budgets accordingly.
References
Writer Bio
Living in Houston, Gerald Hanks has been a writer since 2008. He has contributed to several special-interest national publications. Before starting his writing career, Gerald was a web programmer and database developer for 12 years.