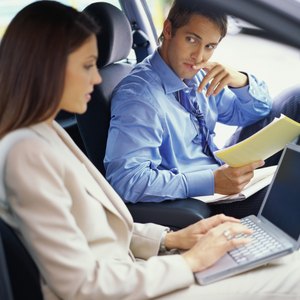 •••
Stockbyte/Stockbyte/Getty Images
Trading one vehicle for another has all the joy of a buying a new toy without any of the financial stress that comes from purchasing a new or used vehicle off the lot. You eliminate the hassle of negotiations for down payments and interest rates, and you gain an exciting new vehicle for both work and play. But you still want to prevent yourself from experiencing buyer's remorse by protecting yourself legally with a proper and binding bill of sale at the time of the transaction. Even if no cash is changing hands, you'll want to have the deal you've negotiated written up and signed by yourself and the other party.
Before agreeing to a vehicle trade, be sure to inquire if there are any known defects with the vehicle. Also disclose any issues that might be occurring with the vehicle that you are trading to the other party. Have a clear conversation with the owner of the vehicle you are acquiring to be sure you both agree on the terms of the trade. It's important to be sure that both parties entirely understand the terms prior to striking a deal.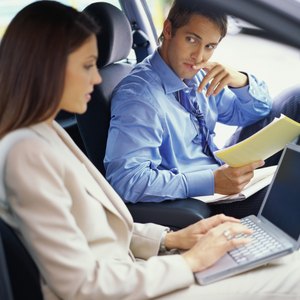 •••
Stockbyte/Stockbyte/Getty Images
Determine State Bill of Sale Requirements
Many states require that you use their standard bill of sale form for your vehicle trade. Check with your local motor vehicles office or search online to see if your state has this requirement. If they do have their own form you either can download it or obtain a copy from the local motor vehicles office. If your state does not have a form, inquire about their requirements to insure that you cover every essential piece of information required for a vehicle trade.
Prepare Two Copies
Both parties in the vehicle trade will need a copy of the signed bill of sale. Be sure to prepare two copies. If you are using your own form it can be either legibly handwritten or typed.
Acquire all Vehicle and Owner Information
You will need the following pieces of information: make, model and year of vehicles, odometer reading, VINs (vehicle identification numbers), description of physical condition of vehicles, time left on any existing vehicle warranties; owners' full legal names, addresses and phone numbers, and drivers' licenses or passports (if required by state law).
Complete the Forms
The form should start with the date of the sale. Next complete all vehicle information.
Make a clear statement that there is no cash changing hands and that owners agree that the vehicles being traded are of fair and equal value. Last, enter the owner information and sign. Both bills of sale must be signed by both parties or the vehicle trade will not be legally binding.
Notarize the Bill of Sale
Most states do not require that a notary public witness the signing of your bill of sale, but it adds legal validity to your document.
Complete the Title Transfer
Once you have completed the bill of sale you will be able to file for a title transfer with the your state's department of motor vehicles. This is an essential step to completing the vehicle trade. Once the title transfer is complete, your new vehicle will be legally registered in your name.
References
Writer Bio
Sarah Snow began working as a freelance writer in 2010. She has worked in finance management, supply-chain management and currently works in public relations and creative development in the film industry. Snow holds a Bachelor of Arts in English and creative writing from Stanford University.