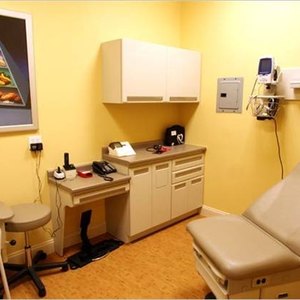 •••
http://media.artdiamondblog.com/images2/WalMartMedicalClinicDesign.jpg
The United States' Surgeon General's Office notes that public health priorities for America are presenting disease and removing disparities in the medical field with regard to race, culture, age and other demographics. Other priorities for the Surgeon General's Office involve preparing government organizations and medical facilities to deal with disease outbreaks and viral attacks, and educating the public on ways to improve personal health. Medical clinics play a key role in the government accomplishing its health priorities.
Visit the Internal Revenue Service official website and apply for your EIN number (see Resources). Apply for your EIN over the telephone by calling the Business & Specialty Tax Line at (800) 829-4933. Fax your form to your state's IRS office. Refer to the link titled "Apply for an EIN" in Resources below. Click "Apply by Fax" and locate your state's fax-in number and submit your completed form.
Complete state filings. Register to collect sales and use tax by visiting your state's Department of Revenue website. Locate your state's revenue office by clicking "State Links" in Resources below. Keep in mind that many states allow you to complete forms and file your taxes directly online.
Build a thorough and complete business plan. Include a detailed line item budget, in-depth description of your business and researched data on other medical clinics in your area in the plan. See the link titled "Small Business Administration, Write a Business Plan" in Resources below to review step-by-step instructions on creating your business plan. Remember that many banks will require you to submit a thorough business plan before approving your business loan application.
Satisfy licensing and inspection requirements. Contact your state's health department to identify the licenses required to operate your medical clinic. Visit the United States Food and Drug Administration website to locate your state's health department. Conduct required building, equipment and medical procedure inspections with state and federal organizations. Keep in mind that typically, the U.S. Food and Drug Administration conducts annual inspections of medical clinics.
Get insurance. Reach out to your insurance provider and obtain adequate insurance coverage for your medical clinic including liability, property, medical malpractice, and employee-related insurance such as workers' compensation and disability insurance. Contact the Center for Medicare and Medicaid Services to enroll to receive the insurance from eligible patients.
Raise capital. Connect with your financial adviser or banker to locate funding for your clinic. Reach out to experienced grant writers by posting ads at professional writer boards such as Writer's Digest, Poets and Writers, and GrantWriters.net. Write and submit federal and local grants to foundations and through websites such as Grants.gov. Raise enough capital to purchase medical equipment, pay the first few months on your building lease and hire employees.
Hire qualified staff. Consider building your staff using a team approach that includes one or more primary physicians, one to two nurse practitioners, one to two physician assistants and one to two office personnel such as an administrative assistant or file clerk. Post job openings with medical schools, medical associations, in your local newspaper, and at job boards such as Med Hunters, Medical Workers, Bio Health RX, Career Builder and Monster. State the requirements for each open position including licensing requirements, years of experience and availability. Keep in mind that depending on the hours you operate your clinic, you may need to post jobs for medical staff who are available to work night shifts.
Establish formalized relationships with other medical providers in your area including nearby hospitals. Ask about the process to refer patients for care at the other facility in the event that critical medical assistance beyond what your clinic provides is needed. Contact the Children's National Medical Center to refer children to any hospital in the country. Call (202) 476-4500 and ask for a Physician Referral Kit, which contains a directory of services, a referral pad and a reference card.
Keep detailed patient records. Purchase filing cabinets and computer systems that allow you to maintain accurate and current patient medical records. Adhere to strict confidentiality policies when storing and sharing patient records. Include items such as the patient's identification, examination findings, original copies of signed consent forms, physician orders, reports from laboratories and the written updates on patient's health assessment.
Create written policies and procedures related to the protection of patient records. Ensure that the policies and procedures follow standards set by government agencies, in particular the Health Insurance Portability and Accountability Act from the Department of Health and Human Services.
Join organizations such as the American Medical Association and the American Academy of Family Physicians (see Resources below). Attend medical-related conferences and seminars. Review medical journals and publications listed at organization websites such as "On Your Own: Starting a Medical Practice From the Ground Up." Subscribe to RSS feeds offered by local and national health organizations to remain current on new laws and medical initiatives. See "List of Medical Organizations" in Resources below to locate organizations that deal with areas your clinic specializes in. Connect with the National Association of Rural Health Clinics if you are opening a clinic in a rural area.
Writer Bio
Rhonda Campbell is an entrepreneur, radio host and author. She has more than 17 years of business, human resources and project management experience and decades of book, newspaper, magazine, radio and business writing experience. Her works have appeared in leading periodicals like "Madame Noire," "Halogen TV," "The Network Journal," "Essence," "Your Church Magazine," "The Trenton Times," "Pittsburgh Quarterly" and "New Citizens Press."