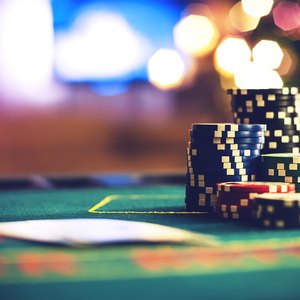 •••
Andy Kirby/500px/GettyImages
PokerStars is a large online poker site that caters to poker players from all over the world. Many people play at the site's free money tables to enjoy a challenging game of poker with no risk. However, the lowest levels of play money play are full of inept players who frequently play badly. This makes it difficult for serious hobbyists to play a decent game of poker. This situation has created a market for PokerStars play money chips. These players are willing to spend anywhere from $5 to $20 for 1 million play money chips. The additional chips will allow you to play the highest-stakes play money tables, thus ensuring that you are playing with skilled opponents.
Choose a merchant where you will sell your chips. Click on the "Use live chat to make transactions" button found on its website.
Specify how many play chips you have to sell when prompted by the online operator.
Click on "Start" and then on "All Programs." Click on "PokerStars."
Enter your PokerStars ID and password in the space provided and click on "Log In."
Click on "Requests" and then on "Find Player." Type the player name into the form provided by the operator and hit "Enter."
Double-click on the results of the search and then click on "Sit Here" to join the table. When instructed to do so, right-click on the operator's avatar and then click on "Transfer Play Money Chips."
Enter the amount to be sent into the form and press "OK."
Do as much research about a play chip merchant as you can before doing business with it.
Selling play money chips is risky. PokerStars does not forbid the practice, but it does not sanction it either. PokerStars does not allow discussion of the sale of play money chips in its built-in chat.
References
Writer Bio
Tommy Charles is a professional writer and researcher for several websites. Focusing primarily on financial markets, he also writes for broader arenas and has written several articles focusing on general interest topics such as secure Web browsing, coin collecting and computer science. His ongoing series of articles concerning the FOREX market and game theory have received a wide readership.