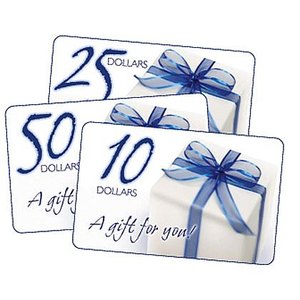 Do you have a gift card that you received to a store that you wish it was somewhere else? Or do you just wish you would have received cash during the time of recession instead of a gift card? Whatever your reason may be for swapping out or exchanging your gift card, these simple steps will get you on your way!
Auction off your unwanted gift card. The online marketplace Ebay lists more than 6,500 gift cards for sale. Yesterday a Abercrombie & Fitch gift card for the amount of $150 sold for $148.50 and a Home Depot gift card for $100 sold for $97.
Look for retailers offering incentives to trade in competitors gift cards. Brookstone will give you a 15% discount if you give them a valid gift card from any other retail store. This could really work in your favor if you had a small gift card such as a $10 one from Starbucks that you didn't want. You could turn that in to Brookstone and get $45 off a $300 product.
Go to one of many websites online that will help you exchange an unwanted gift card for one you'd like more or even surrender your gift card for cash. These sites include plasticjungle.com, cardavenue.com, giftcardrescue.com, and swapagift.com
Writer Bio
This article was created by a professional writer and edited by experienced copy editors, both qualified members of the Demand Media Studios community. All articles go through an editorial process that includes subject matter guidelines, plagiarism review, fact-checking, and other steps in an effort to provide reliable information.