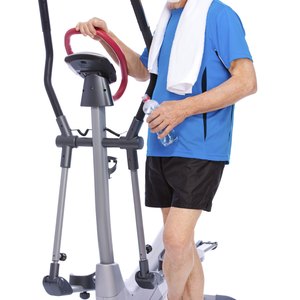 •••
AlexRaths/iStock/Getty Images
Renting an elliptical machine rather than buying one allows you to have your own cardio machine at home without having to make the financial commitment to an expensive purchase. Renting cardio equipment is possible through various rental agencies, many of which will deliver the elliptical nationwide. First decide on the style and brand of elliptical machine you want and then narrow down the potential rental agencies that offer your preferred machine by comparing their pricing and terms.
Determine the style and design of elliptical machine you're looking to rent. Each elliptical trainer model offer different features. You may prefer an elliptical that has handles that move alternately with the foot pedals or one that has static handles. You may be interested in an elliptical that features hand-grip pulse sensors that monitor your heart rate or maybe you'd rather wear a heart rate monitor and have an elliptical that receives the transmitted pulse information so you don't have to hold the pulse sensors. Use the list of features you want to help you narrow down and eventually select the models you prefer.
Measure the amount of room you have in your house for an elliptical machine. Elliptical trainer models vary in their dimensions, and understanding whether a particular machine will fit in your home will help you quickly exclude certain models.
Look up a variety of rental agencies that supply elliptical machines. By entering the search terms "rent elliptical machine" into an internet search browser, you'll discover a variety of rental agencies. Make a list of potential agencies that offer the elliptical models you prefer.
Compare the terms and pricing of your list of potential rental agencies. Some companies require a deposit or security fee. Note if they ask for delivery and set-up or removal charges. Rent A Tread, which offers elliptical rentals, requires a $100 delivery and set-up fee and a $50 pick-up fee once your rental period ends. Some agencies require you to sign a contract agreeing that you'll rent the elliptical for a minimum amount of time. Others, like Easy Fitness, offer pricing incentives for signing a longer rental agreement. An 8-week term of their E-Fit Pro Elliptical model will cost $34.95 per month, but if you agree to 52 weeks, it'll cost you $14.95 per month.
Fill out the application form of your selected rental agency. The company will probably ask you for basic information, like your name, address and desired lease term. They may also request your driver's license and employer information to verify your identity. Once the application is submitted and your elliptical chosen, you usually pay by credit card and schedule delivery of your elliptical machine.
The rocking and vibrations of an elliptical can damage flooring. Check to see if the rental agency rents a heavy duty floor mat that you can place underneath your elliptical to protect your floor.
References
Writer Bio
Kim Nunley has been screenwriting and working as an online health and fitness writer since 2005. She's had multiple short screenplays produced and her feature scripts have placed at the Austin Film Festival. Prior to writing full-time, she worked as a strength coach, athletic coach and college instructor. She holds a master's degree in kinesiology from California State University, Fullerton.