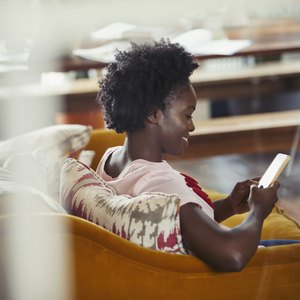 •••
Caiaimage/Paul Bradbury/Caiaimage/GettyImages
Believe it or not there are ways to make money from home without a computer. People did many years ago. You can too! There are numerous work at home jobs that don't require a computer. This will just take me several eons to think of what they are, and how they can be accomplished without a computer. Here's how:
Making money from home is as easy as a click of a mouse. Aren't you tired of hearing that? Not everyone needs to utilize a computer to make an honest living from home. It's a not difficult, in fact it is easy. You have to be really creative, but when there's a will, there's a way.
Sell stuff from home. Without the use of a computer you can still sell stuff. And you don't have to pay for shipping and handling either. Sell antiques, old furniture, jewelry, household items right from your very own garage. Have weekly garage sales, yard sales, sidewalk sales from your own home. Make money by talking to your neighbors and advertising in the weekly penny saver.
Craft, design, and market your own crafts or jewelry. Sell the items you create at your existing jobs, a spouse's or a friend's job. Sell the items you make to neighbors. Have inexpensive jewelry, clothing, handbag or craft parties, and invite your friends and relatives.
Here's one for the hairstylist. For people that style hair, are makeup artists or are great with their hands start your own business in the basement. You can cut and style hair, create makeup, and give massages for certain prices. You will of course have to hang out a shingle and let the government know you are making money. But yes, you can work from home.
How about starting your own band, karaoke or sound system. For people that are musically inclined you can start your own business at home without the use of a computer. Advertise the old fashioned way---by word of mouth, flyers and newspaper ads.
For people who have a lot of patience---tutor children teens and college students. For people that are great with kids, have the patience and are really good in one subject, such as math, science, or music use those abilities. Tutor kids into getting great grades. For retired teachers, or teachers taking a sabbatical this is a great way to earn extra money from your home or someone else's.
You don't need a computer to make money! Use your talents and your brain to make more money.
Writer Bio
This article was written by a professional writer, copy edited and fact checked through a multi-point auditing system, in efforts to ensure our readers only receive the best information. To submit your questions or ideas, or to simply learn more, see our about us page: link below.