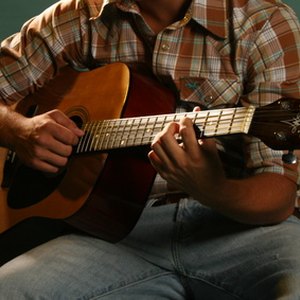 As of 2010, New York City is the most expensive city to live in the United States. With exceptionally high rent prices, you may find yourself scrounging for quick money at the end of the month to keep a roof over your head. While you probably won't land your dream job in time to write that check (or if you do, your pay typically doesn't kick in until two to four weeks later), there are some ways to make quick cash in the big apple.
Busk
Busk at busy spots. Busking is the art of playing an instrument on the street for money. As with most large, cultural cities, there's money to be had using your talents.
Scout a busy subway stop and put on a show for passersby. It may take a few tries to find the best spots, and you might find that you make more money if you switch between two or three spots.
Show off other talents like juggling or miming, if you're not a musician. If you're an artist, you might find a place to practice your art while you display your pieces.
Distribute/Post Fliers
Get a job distributing fliers if you want to make a fast dollar and take part in promoting NYC's nightlife and special events. Contact individual promotion/production companies asking if they're hiring, and you can scourer The Village Voice and The L Magazine for opportunities.
Get information from a flier distributor during closing time outside a club. You typically don't need much experience for this type of work, just a willingness to post or hand out fliers. Expect plenty of walking and standing.
Contact local advertising and marketing agencies to see if they run seasonal or ongoing flier campaigns. Do the same with temp agencies.
Write for the Web
Get an online writing gig. One of the beauties of freelance writing or copy editing is that you can work from anywhere. While breaking into various publications can be a challenge, various online clients offer content writing opportunities for new writers.
Search sites like Freelance Writing and Online Writing Jobs for content and other freelance writing opportunities and resources. It's important to remember that you never have to shell out money for these jobs. A "job" posting requiring an application fee, money for a certificate or job search fee is a scam.
Write often and quickly if you get accepted by a site. Pay close attention to their voice and style guidelines. Find out how often they pay. Some sites pay as as frequently as twice a week.
Cater
Get a catering job. According to New York's "Timeout" Magazine, as of 2010, catering server gets paid between $17 and $20 per hour in New York City. You don't have to worry about making enough tips, as you do working in a restaurant, and some companies offer very flexible schedule options.
Inquire with bigger catering companies sometimes employ hundreds of employees, so they're always looking for more applicants.
Check Craig's List, the Village Voice and other publications for opportunities to cater. Ask how soon after getting hired you get paid. Sometimes there's a lag in payroll when you begin or a lower, introductory training salary.