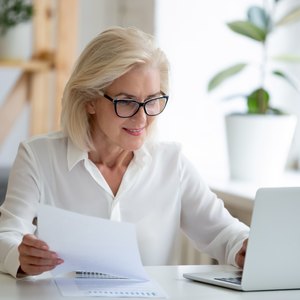 •••
fizkes/iStock/GettyImages
Getting a copy of your credit report, or even copies from each of the three credit bureaus, isn't a challenge because federal law provides that you're entitled to the information. The Fair Credit Reporting Act or FCRA mandates that the three major credit reporting agencies – Experian, TransUnion and Equifax – must each provide you with a free credit report.
The only hiccup here is that they're only required to do so once a year. A lot can happen to your credit history in ​12 months​, but you might have additional options, depending on your circumstances.
The Fair Credit Reporting Act
The Fair Credit Reporting Act is the driving force behind these once-a-year free credit reports from the three agencies, but it goes a step further than that. The FCRA also mandates certain standards to ensure that the information in your report is accurate and confidential, and it provides certain rights to victims of identity theft and fraud. The Federal Trade Commission oversees the FCRA.
In almost all cases, you must give someone permission to look at your credit report under the terms of the FCRA, but you effectively do this whenever you apply for credit, insurance, or some government benefits. Your permission is "implied" when you do so. Exceptions exist for entities like certain courts and law enforcement agencies. They don't need permission.
How to Request a Copy of Your Report
You have numerous options for getting your free annual credit report as provided for by the FCRA. Perhaps the easiest is to visit the website that's maintained by the credit reporting agencies: AnnualCreditReport.com.
You can also call ​1-877-322-8228​ if you prefer voice-to-voice contact, or send a written request by snail mail to ​Annual Credit Report Service Request, P.O. Box 105281, Atlanta, GA 30348-5281​. What you don't want to do is reach out to Experian, Equifax or TransUnion directly. This won't get you anywhere except under some narrow circumstances. They created that AnnualCreditReport.com website for a reason.
Beware of scam websites and services. There are quite a few out there. They'll claim to give you a "free" report, and the next thing you know, you're signed up for a service that charges you a fee after a trial period. These services might also attempt to phish important, confidential information out of you for purposes of identity theft, such as your Social Security number or bank account number.
You ​will​ have to provide your Social Security number and date of birth to AnnualCreditReport.com, but in this case the information is protected by the Federal Trade Commission.
The One-a-Year Rule
You're entitled to a free report once a year from ​each​ of the credit reporting agencies, or three in total, every year. You can order them all at the same time, or you can spread them out, ordering a different one at four-month intervals so you have copies covering the whole year and timely knowledge of any changes that have occurred.
Federal law also limits the charge to ​$12.50​ per report if you want to purchase additional reports because you're in a situation where it's critical that you monitor your credit closely.
Special Rules for 2020
The rule providing for one free credit report per year from each credit reporting agency has been waived for 2020 and going forward in light of the ongoing coronavirus pandemic, at least by Equifax. The FTC has announced that you can get ​six​ free reports a year from this agency through 2026, and you ​can​ call Equifax directly in this case, or just visit their website.
These six reports are in addition to the usual one free report you're otherwise entitled to. You can also take advantage of this offer at AnnualCreditReport.com.
USA.gov has also indicated that the one-a-year rule is on hiatus due to COVID-19. They indicate that you can get a free report every week from all three reporting agencies through April 2021.
How Long Will This Take?
You should receive your credit report immediately via on-the-spot access if you make your request online. Otherwise, expect to wait about ​15 days​ for a paper copy to be delivered to you if you request your report by phone or by U.S. mail. That's ​15 days​ after your mailed-in request is received, not from the date you drop your request at the post office.
Other Reasons for a Free Credit Report
Under normal circumstances when there's not a pandemic, federal law provides that you can also receive a copy of your credit report for free other some under circumstances. These circumstances are also limited to just one additional credit report per year, however:
A potential lender, employer or insurance company denies your application based on information contained in your report. You have ​60 days​ after denial to request a free copy of your report in this case. You should receive notice from the declining party that you're entitled to do this, and the notice should cite the name and contact information for the credit reporting agency they used.
You're unemployed and planning to look for work within the next ​60 days​.
You're receiving public assistance.
You suspect you're a victim or are a confirmed victim of identity fraud or theft.
Some states also provide for free credit reports by law. You can find out if yours is one of them by checking any of the credit reporting agencies' websites.
Reporting Any Errors You Might Find
So you've received your free report, and you spot misinformation in it. Now what?
The FCRA holds both the credit reporting agency and the reporting party responsible for inaccurate information. Both have a legal obligation to investigate and correct any inaccuracies, and the FTC advises that you contact both if something appears amiss. You should do so in writing. The credit reporting agency should send you written notice of who provided the information if it's unclear from your report, so you'll know who to contact.
The credit reporting agency must give you a written report detailing their investigation and its outcome. You're also entitled to ​another​ free credit report if the investigation results in a change to your credit report. As for the creditor or reporting party, they're prohibited from reporting the misinformation again if you prevail and it's established that the data is inaccurate.
You can file a complaint directly with the FTC and ask for assistance if either party doesn't comply with these rules. You can contact the Commission at ftc.gov/complaint, or by calling ​1-877-382-4357.​
Credit Reports vs. Credit Scores
Your credit report won't tell you your credit score. That's a different issue entirely. And in no case should checking your own credit report have any effect on your credit score. Only hard inquiries from potential lenders have the potential to change your credit scoring.
References
Writer Bio
Beverly Bird has been writing professionally for over 30 years. She is also a paralegal, specializing in areas of personal finance, bankruptcy and estate law. She writes as the tax expert for The Balance.