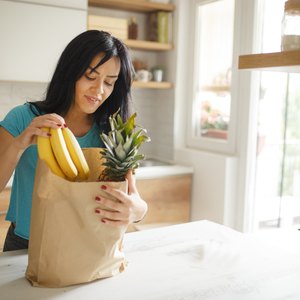 •••
Milan_Jovic/E+/GettyImages
The Supplemental Nutrition Assistance Program (SNAP), also commonly known as food stamps, is a federally funded program that provides food to low-income families that meet the eligibility requirements. Each state administers the funds through state departments or local agencies and must follow federal guidelines. People who meet the eligibility requirements receive an electronic benefits transfer (EBT) card and they can use the funds on the card at participating grocers to buy authorized food items. When contacting the agency about your benefits, you'll need to provide your case number.
Locate the Proper Agency
Contact your local state government to find out which department issues food stamps if you don't remember where you went to apply for the SNAP benefits. Many states use the Department of Health or Nutrition or the Department of Human Services. Once you know the agency's name, you can look up their telephone number in your phone book or online.
Call a Caseworker
Dial the appropriate department and ask to speak with a caseworker who is authorized to process food stamps. Give the caseworker the information needed to confirm your identity and locate your case in the department's system. This may be your name, address, birth date and social security number. You will also be required to verify the information used in the food stamp application that the department has on file for you.
Visit the Caseworker in Person
Head to the local office if the caseworker says the department can't verify your identity via telephone. Some agencies can provide you with free transportation to the office or give you a fax number that you can use to send the department a copy of your ID, Social Security card or any other required information that is needed to verify your identity.
Use the Program's Mobile App
Some states, like Massachusetts, have a mobile app that their clients can download. If your state has this, you'll be able to sign in to your account with your Social Security number and year of birth. Once logged in, you can view your case number, benefit amount and upcoming appointments.
Keep Your Case Number Safe
Once you've been told your case number, or you've located it on your paperwork or through the mobile app, you'll need to keep it safe in your records. Do not give your case number or identity information to anyone who is not authorized to have access to your claim and be sure to prevent the loss of your benefits by reporting a lost or stolen card immediately.
Consider Future Correspondence
To continue your benefits, provide all of the information requested by the department in a timely manner. Most state agencies will not forward mail, or allow you to use a P.O. box. Double check that your address is current and that you report all changes in writing as soon as they occur, adding the case number to the top of every correspondence.
References
Writer Bio
Sarah Bruce is experienced in the world of web hosting, accounting/ billing, customer service, welfare reform and business management. She has been writing articles over a period of two years for publishers such as eHow.com, Phoenix New Times and Associated Content.