How to Get Free Dental Help and Find Clinics Who Offer Free Dental Care
by Mary Strain ; Updated October 25, 2017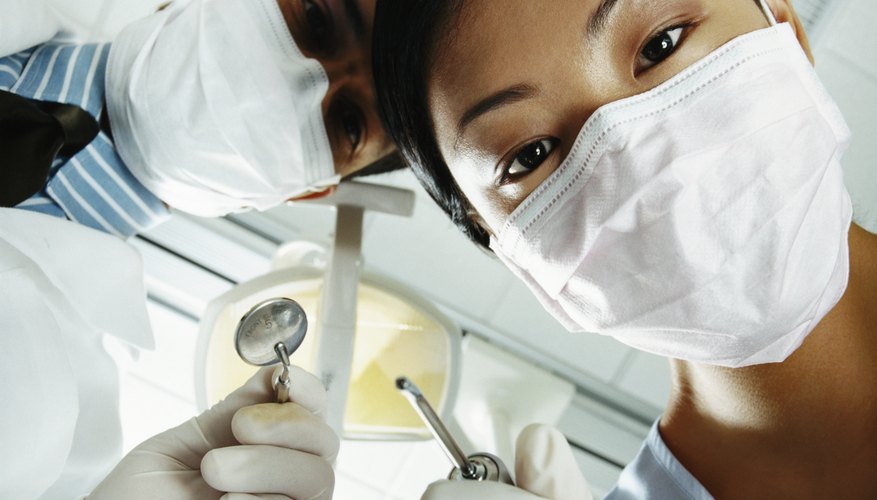 If you have dental problems but lack dental insurance, you're facing financial, as well as physical, pain. Dental work can easily run into thousands of dollars; without dental insurance to cover the expense, you might not be able to afford major dental work, however badly you need it. If you don't have dental insurance, there are some free or low-cost options available to you through federal and state governments. Some nonprofit groups also help the uninsured obtain free or low-cost dental work.
Federal
The U.S. Department of Health and Human Services' Health Resources and Services Administration offers a search tool on its website to help you find federally funded health centers. These health centers provide dental care, among other services, for what you can afford to pay, based on your income. The site allows you to search for centers near your address or in a certain state or county.
The National Institute of Health's National Institute of Dental and Craniofacial Research also sometimes solicits volunteers with certain specific dental conditions for clinical trials. Institute researchers may give participants limited free or low-cost dental treatment for the specific condition being studied.
See the Resources section for links to these sites.
State
Medicaid and the Children's Health Insurance Program (CHIP) are administered by the states and provide dental benefits in some cases. Guidelines and eligibility vary by state, though most states provide limited emergency dental services for people age 21 or over. Medicaid provides dental services for most individuals under the age of 21.
CHIP helps children up to age 19 whose families have incomes too high to qualify for Medicaid but who can't afford private coverage. In most cases, CHIP provides dental services to children who qualify. Dental services covered under this program vary from state to state.
Nonprofit
The National Association of Free and Charitable Clinics website maintains a searchable database of free clinics nationwide, including dental clinics that offer their service free, or for a nominal fee. Private organizations, such as Dentistry From the Heart and Christina's Smile, offer free dental work, donated by dentists to those who need it. See the Resources section for links to these websites.
Dental Schools
Some dental schools offer free or low-cost dental work for those willing to let dental students do the work. The dental students are supervised by faculty while doing the dental work. Be aware that you may have to undergo screening to determine if your dental needs can be addressed by the school's program.
Photo Credits
Digital Vision./Digital Vision/Getty Images