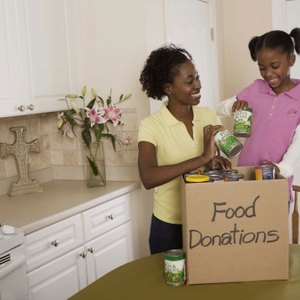 •••
Jupiterimages/Brand X Pictures/Getty Images
Charitable organizations exist to help and improve the circumstances of a certain cause, such as the protection of animals or to find a cure for an illness. Some charities are have an international presence, such as Goodwill Industries, while others are known only nationally or in your local area.
Nearly every charitable organization accepts donations of money or other materials that they can use toward their cause. If you would like to donate something there are a few different ways you can go about finding the right charity.
Visit the websites of the American Institute of Philanthropy and the Better Business Bureau, both of which feature A to Z listings of national and international charitable organizations. Both websites include contact information and links to the websites of each charity listed. The BBB website also includes reviews of the charities and information about tax deduction.
Visit websites like Charity Vault and Charity Navigator to find local charities in your area. Click on the name of your state and then browse through the alphabetized list provided. To narrow down your options you can divide the charities up by the type of charity or by city. Each website features a brief description of the charity and provides the websites address of the charity.
Look through a copy of the Yellow Pages under the "Charities" heading to find the address and telephone number of charitable organizations in your local area.
References
Writer Bio
Dan Richter began freelance writing in 2006. His work has appeared in a variety of publications, including the "Wausau Daily Herald," "Stevens Point Journal," "Central Wisconsin Business Magazine" and the "Iowa City Press-Citizen." Richter graduated from the University of Wisconsin-Stevens Point in 2009 with a Bachelor of Arts in communication and media studies.