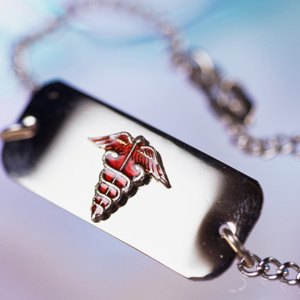 •••
Stockbyte/Stockbyte/Getty Images
In an emergency situation, a medical ID bracelet can mean the difference between life and death. These bracelets provide vital health information and help to warn medical professionals and emergency responders that you are prone to seizures, have a serious chronic illness, what allergies you may have or other critical medical information. Currently, these bracelets are available at no cost to children and people with diabetes. In addition, some hospitals offer free medical ID bracelets and in some cases, insurance may help cover the cost of a medical ID bracelet.
Contact your local hospital and ask them if they offer free medical ID bracelets. If they don't, ask if they know of any medical foundations in the area that provide these bracelets for free. Also, your doctor is another excellent resource for providing information on free or low-cost medical ID bracelets.
Contact the Diabetes Research and Wellness Foundation if you have diabetes and would like a free medical ID bracelet. They provide free bracelets to people who suffer from diabetes. You can email them at diabeteswellness@diabeteswellness.net or call them at (800) 941-4635.
Contact MedicAlert if you have a child between the ages of 4 and 14 who needs a medical ID bracelet. This organization provides these bracelets for free to children in that age range. They can be contacted either through their website: http://www.medicalert.org/ or your you can call them at (800) 432-5378.
References
Writer Bio
Arman Khodaei has been writing professionally since 2004, when his short memoir was published in the "Nota Bene" anthology, for which he received the Reynolds Scholarship. He serves on an Autism Committee for the California State Senate and has been involved in the autistic community for more than five years. He received his Associate of Arts from Lakeland Community College.