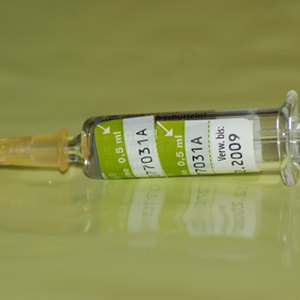 So many opportunities — jobs, schools, even travel programs — require immunization records. If you haven't been keeping copies of your immunizations and you need them, you'll have to go back and trace your steps. The State of Texas can be helpful with vaccination records from ages 0-18, but anything you did following that, you'll have to do your own legwork. Luckily, provided you can identify yourself, health care providers should easily hand over your records: You have the right to them.
Contact your doctor or your last physician you saw regularly. Ask for a copy of your immunization records. Even if you no longer see the doctor, you have a legal right to the record; the physician or medical provider must make every effort to produce a copy for you.
Call the Texas Department of State Health Services to request records for you or your minor children. The state ImmTrac database tracks all vaccinations given to people under 18 years old and you can receive a consolidated record of vaccinations, even if they were given by assorted providers.
Check with your health insurance company to see if they have a copy of your immunization records. Often, medical records are passed from health care provider to insurer and then even between insurers if you change medical plans. Although it can be a little eerie to discover someone has an extensive record on you, your insurance provider may well have it. Both Texas and federal law require your insurance company to provide you a copy of any medical records it holds.
Call your university or college registrar's office if you went to school in Texas. All Texas public campuses and most private require updated immunization records on file the entire time a student attends school. While this may not extend to vaccinations you get at an older age, it should include all your childhood and teenage vaccinations — which are the bulk of your immunization records.
Ask immunization tracking programs in your area for a copy of your vaccination record if you participate in their services. Several local governments have health programs like the San Antonio Immunization Registry System to help people keep up with their vaccinations and to ensure everyone has access to complete, updated records.
References
Writer Bio
Eric Feigenbaum started his career in print journalism, becoming editor-in-chief of "The Daily" of the University of Washington during college and afterward working at two major newspapers. He later did many print and Web projects including re-brandings for major companies and catalog production.