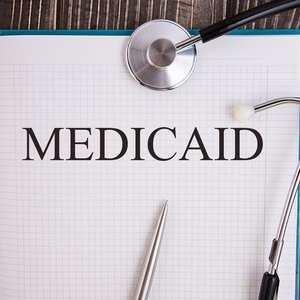 •••
Vadzim Kushniarou/iStock/GettyImages
Inaugurated in 1965, along with Medicare, its sister program for seniors and disabled persons, Medicaid was established to assure adequate health care for low- and no-income people. While the federal government sets broad guidelines for the administration of Medicaid, its management and day-to-day oversight are carried out by individual states. This accounts for differences in how to apply for and make claims on Medicaid benefits.
The Center for Medicare and Medicaid Services (CMS), an agency of the U.S. Department of Health and Human Services (HHS), provides information to recipients who are unsure of what benefits are available to them.
Do Most Doctors Accept Medicaid as an Insurance Provider?
Many physicians do not want to get paid via Medicaid because the amounts and rates are lower than, say, Medicare or private insurance. Meanwhile, the overhead relative to processing those claims does not change. Thus, fewer professionals will accept this coverage than accept Medicare.
Doctors who accept Medicaid might often be newer to private practice, and seeking to build up a large pool of patients. Even among those doctors who accept Medicaid, there is some evidence that those patients receive a lower priority by medical office staff. In addition, many Medicaid-friendly clinicians, while fully licensed by their states, lack board certification in their specialty.
How to Locate Doctors Who Accept Medicaid
This is not to say that trustworthy and highly competent Medicaid physicians can not be found. Again, Medicaid services are managed by state authorities so you might think visiting a state health or family services department website should be step one. More often than not, though, you will find information about Medicaid eligibility and application rather than health care providers. A more promising method will likely yield results but requires both patience and diligence.
Key to finding doctors who accept Medicaid is understanding how Medicaid benefits are paid by states. Put simply, states contract with health plans and insurers that, in turn, interface with physicians and surgeons for payment purposes. These organizations prescribe to their members – i.e., approved Medicaid recipients – the medical resources that are available. This encompasses not only doctors, but also hospitals, pharmacies, laboratories and other facilities that accept such payments.
With this reality in mind, a good starting point is to find out what companies deliver Medicaid benefits in your state. Instead of navigating state web pages, simply type into a search engine "what insurers provide Medicaid benefits in Delaware?" for example. The first site to show reveals that Delaware does business with AmeriHealth Caritas and Highmark Health Options. These are the websites you must land on next.
On each home page, there is a tab to "Find a Provider." This portal will take the searcher through a few filters, e.g. location, specialty, etc. When the list that meets your criteria appears, you can click on each doctor's name for more information.
What Information Does a Provider List Convey?
Of course, details will vary insurer by insurer, but certain elements are common to most: address and phone number, affiliated practice, office hours, languages spoken and the hospitals where the doctor carries staff privileges. In addition, the medical license number, board certifications (if any) and, importantly, whether or not the physician is accepting new patients are also entered quite often. Approved Medicaid applicants are directed to these resources in due course.
When looking for insurance company websites, make sure to add "Medicaid" when typing the name in the search engine. Many companies also provide traditional coverage and you want to be certain you are on the correct page.
References
Writer Bio
Adam Luehrs is a writer during the day and a voracious reader at night. He focuses mostly on finance writing and has a passion for real estate, credit card deals, and investing.