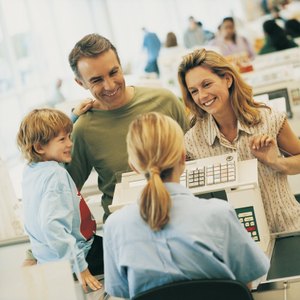 •••
Digital Vision./Digital Vision/Getty Images
There are few things as embarrassing as having your card declined when you're trying to pay for something in public. In addition to the embarrassment, having a card declined for a transaction, even if you almost have enough and are willing to pay the rest in cash, can cause a hassle for the employee checking you out and the people waiting in line behind you. Reviewing how to check a Costco Shop Card balance will help you avoid this situation and help you plan your trips accordingly.
How Costco Cards Work
You can purchase a plastic or digital Costco Shop Card at Costco locations or online. You can give them as gifts or use them to buy gas at a Costco gas station, purchase food, beverages and other items at Costco warehouses or shop online. As of January 2022, you could only reload Costco cards in one of their stores, not online, according to the Costco FAQ page.
They work just like debit cards – you present the card and can make purchases up to the amount that you have in your account. You can choose to receive a plastic card or a digital card you can redeem with your smartphone when you're ready to check out in-person or online. You can also use plastic cards to make purchases online.
Check Your Latest Receipt
One quick way to check your Costco cash card balance is to look at your latest receipt. Each time you use your cash card, Costco will update your balance and print it at the bottom of your receipt. Keep it in your wallet or purse and you'll be up to date with your card.
Check the Balance Online
You can also check a Costco gift card balance online. You'll need your card number and personal identification number (PIN). You can do this using your computer or your phone if you've accessed the web from your smartphone or you've downloaded the Costco app. Your card number will be on the back of your plastic card. It will be on the receipt you received if you ordered or were gifted a digital card.
Try to memorize your PIN so you don't have to keep it in your wallet or purse with your card. Don't use something someone can easily guess, like your birthdate or street address. If the Costco website is down for some reason, try a third-party gift card website like GiftCardGranny.com.
Call Costco on the Phone
You can also call and find out your card balance. Dial ​888-668-9668​ and press option 1. Check the back of your card to see if it has another toll-free number for you to call. As of January 2022, Shop Card Customer Service was open Monday through Friday 7 a.m. through 6 p.m. and Saturdays 8 a.m. through 5 p.m. You can read the Costco website to look for updates.
References
Tips
If you've forgotten your online account password, input your email address in the Forgot Your Password? section on the Login Page screen and click "Go" to have it forwarded to you.
If your Costco warehouse has a red kiosk, slide the card through the kiosk card reader to retrieve your balance.
Writer Bio
Steve Milano has written more than 1,000 pieces of personal finance and frugal living articles for dozens of websites, including Motley Fool, Zacks, Bankrate, Quickbooks, SmartyCents, Knew Money, Don't Waste Your Money and Credit Card Ideas, as well as his own websites.