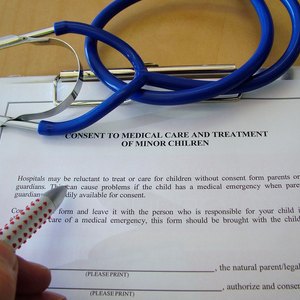 •••
child medical consent form image by Keith Frith from Fotolia.com
Medi-Cal is California's health care insurer for low-income residents and persons with disabilities. Medi-Cal stands for the California Medical Assistance Program. Because of the state's dire fiscal situation in 2011, eligibility rules could change if funds for the program are cut, so stay abreast of changes by checking in periodically at the state's Department of Health Care Services website.
Check with Medi-Cal for rules for eligibility and enrollment. The Medi-Cal website has several pages dedicated to Medi-Cal and its broad mandate. You can be enrolled if you already collect Social Security benefits, food stamps, adoption assistance, foster care or in-home support services provided by the state.
Look further to see if you qualify, even if you are not already collecting government benefits. If you are 65 or older, blind or otherwise disabled, in a nursing home, you might qualify. Women who are undergoing treatment for breast or cervical cancer may also qualify if their income is less than 200 percent of the federal poverty level.
Call your local County Welfare Office. Medi-Cal lists the state's 58 county welfare offices on its website. The office can answer any questions you have and can give you some idea whether you will qualify, even before you fill out the application.
Apply for assistance. The straightforward application is available in 11 different languages and is available online. The application will ask you for your identifying information, marital status, the members of your household and their ages, and whether you own a home either in California or in another state. You are also required to list all of your sources of income as well as expenses relating to health insurance, alimony and other factors that matter in your overall household budget.
Be completely honest on your application. The penalties for fraud and abuse are severe, and include losing your benefits and potential prosecution for both recipients and providers. The state's Health Department reports on its website that since 1999 it has poured a tremendous number of resources into combating Medi-Cal fraud.
References
Writer Bio
Jean Mann has been a writer and editor for more than 30 years. She enjoys writing travel, medical, health and how-to articles for various publishers. Mann is a graduate of the University of Massachusetts with a Bachelor of Arts in journalism and English.