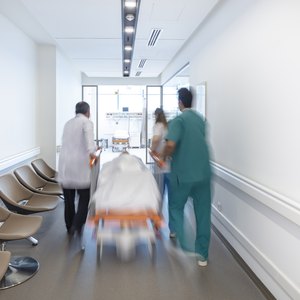 •••
JazzIRT/E+/GettyImages
Medi-Cal, started in 1966, is California's Medicaid program, which provides medical, dental and vision care for the poor and disabled. According to the California Department of Health Care Services (DHCS), one-third of the state's population, which includes over 13.2 million Californians, are registered for Medi-Cal, yet some don't realize their status is active. By making sure your Medi-Cal account is still active, and accepted by both doctors and hospitals, you'll be able to receive medical care when you need it.
Make Sure You're Eligible
The Medi-Cal eligibility requirements have expanded, which means individuals and families that previously didn't qualify, may now be approved. If you are a citizen or legal resident of the state of California and you earn less than 138 percent of the Federal Poverty Level, you probably qualify. Mybenefitscalwin.org has an online questionnaire you can fill out to quickly determine whether or not you meet the requirements for the program.
Locate Your Nearest Welfare Office
Find the number of your local social services office. While Medi-Cal is a statewide program, it is administered at the local level. A list of the county welfare offices can be found on the DHCS website or in your local phone book under Health and Human Services or Social Services.
Contact a Case Manager
Once you locate the number, call the local welfare office and ask to speak with your caseworker. Provide the case manager with your social security number, as well as the Medi-Cal identification number on your Beneficiary Insurance Card (BIC). If you don't know who your caseworker is, your local welfare office can find this information and transfer your call appropriately.
Request Your Medi-Cal Status
After you get the case manager on the line, as him or her if your account is now active and ready for use so you can begin receiving medical care through Medi-Cal. If you are not active, your case worker can look into the account to let you know the status of the application and whether any additional steps are needed to have the agency either accept or deny the request.
Use the Online Portal
Another option is to use the MyBenefits CalWIN website to check your case status and benefits amount. The system also allows you to view any notices that were sent, such as requests for further documentation and whether you are eligible for additional assistance programs. If you don't currently have a MyBenefits account, you'll need to create one. Then you can go back and log in to see whether your Medi-Cal is approved and active.
References
Writer Bio
Theresa Bruno began her writing career as a librarian in 2008. She published an article in "Indiana Libraries" and has written many book reviews for "American Reference Book Annual" and "Reference and User Services Quarterly." Before becoming a writer, Bruno received a bachelor's degree in history/religious studies from Butler University and taught American history at Ivy Tech Community College.