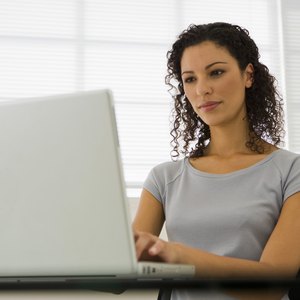 •••
Pixland/Pixland/Getty Images
Many people give gift cards for birthdays, holidays and other special occasions. Gift cards give the recipients the freedom to choose what they want. Target is a popular retail chain that offers gift cards for its stores. It is not necessary to use the entire value of a Target gift card at one time; it can be split between several purchases. By checking a Target gift card's balance, you can quickly find out exactly how much is left to spend with the card.
Flip the Target gift card over to the back. Find the gray rectangle in the bottom left corner that says "Gently remove to check balance and use on Target.com."
Scratch off the gray rectangle. Use a coin to rub back and forth over the rectangle until all of the gray has been removed. This will reveal your card number and access number.
Go to www.target.com. Click on the "Gift Cards" tab towards the top center of the page.
Look to the left of the page, about 1/4 of the way down. Click on the tab labeled "Check Your Balance."
Enter your card number, followed by your access number, in their respective boxes. Make sure to enter the complete card number, including the dashes.
Click "Submit" once you have entered the card number and access number. View your gift card balance where it says "Available Balance."
Use the telephone for an alternative method for checking a Target gift card balance.
Call (800) 544-2943 to reach Target's automated system for checking a gift card balance.
Listen to the opening message. The operator will instruct you to scratch off the card to show the number and access code.
Enter the 16-digit card number when prompted by the operator. Disregard the dashes in the number, as there is no need to enter them on the phone.
Listen to the operator state your gift card balance. Press "1" if you need the balance repeated.
Writer Bio
Kimbry Parker has been writing since 1998 and has published content on various websites. Parker has experience writing on a variety of topics such as health, parenting, home improvement and decorating. She is a graduate of Purdue University with a Bachelor of Arts in organizational communication.