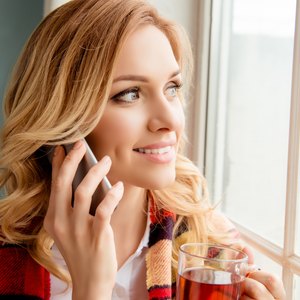 •••
Deagreez/iStock/GettyImages
Most credit cards are easy to cancel. A Chase credit card is no exception but there are a few things to watch when closing any credit card, especially if you have an unpaid balance. If you're not careful, it can adversely affect your credit score.
How Do You Cancel a Credit Card?
You can cancel your Chase credit card by calling Chase Customer Service at 1-800-432-3117 for personal credit cards, or 1-888-268-8690 for business credit cards. Phone numbers for International and TTY personal and business phone numbers are available on Chase's customer service website. Once you make your way through the automated response maze and are speaking with a customer service rep, he'll ask you the usual identification questions. Nothing challenging, but be sure to have your card handy because you'll need to give him the full 16-digit number. Then explain that you want to cancel. He'll ask you why, but this isn't a qualification question – any answer will do, and then he'll begin the actual cancellation process, which takes less than five minutes. After completing the call, you'll receive a notice confirming the cancellation by email or U.S. postal service, depending on how you had your card payments set up.
You can also cancel online through Chase's Secure Message Center. Go to the Chase online login page and enter your username and password. Once verified, go to the "Secure Messages" page and send a message stating that you want to cancel. While you don't have to give a reason, doing so may save you an email exchange. And, again, any answer will do. Within 24 hours, or a little longer if you're canceling on a weekend, you should receive an email back notifying you that the card's been canceled. If not, call again.
Another way to cancel is to write Chase a cancellation letter addressed to Card Services/P.O. Box 15298/Wilmington, DE 19850 or fax it to 1-866-958-0927.
Of these three methods, contacting Chase by phone is the fastest, most dependable way of canceling. If there's an issue, which is unlikely but possible, you and the service rep can straighten it out, almost always within a few minutes.
Following Up
Generally, all three methods are reliable ways of canceling your card. If you don't receive a follow-up confirmation by email or surface mail within a couple of weeks, however, call again to confirm the cancellation. If you want to be especially vigilant, you can also wait a couple of months, then contact one of the three major credit bureaus – Equifax®, Experian® and TransUnion® – to be sure the cancellation is noted on your credit report. Since phone calls to the credit bureaus are notoriously unpleasant, a less exasperating way of confirming your cancelation is to pull your annual free credit reports from all three agencies at AnnualCreditReport.com. Unless you're negotiating a mortgage or other large credit transaction, this is probably overkill.
Can You Close a Credit Card Account With a Balance?
Here's where it can get a little tricky. The shortest answer is yes, you can. The process is exactly the same whether the account has a balance or does not. But doing so will also affect your credit score adversely when there's a substantial balance.
To better understand why this can occur, consider that one of the ways the credit reporting agencies determine your credit score is by analyzing your credit card utilization. If, for instance, you have one credit card with a limit of $10,000 and your current balance is $2,000, your utilization or balance-to-limit ratio is 20 percent. That's pretty good and will not adversely affect your credit score.
On the other hand, if your current balance is $2,000 and your limit is zero, that's not good at all. And that's what happens when you close a credit card account with an open balance. In most cases, the result won't be quite as disastrous as this because, no doubt, you've got more than one credit card and the credit reporting agencies total both credit balances and credit limits on all cards, then divide total credit balances by total credit limits to arrive at your credit utilization. But it still has an effect.
As an example, assume you have two cards, one of them with a balance of $2,000 and a limit of $10,000 and another with a balance of $500 and a limit of $5,000. The total credit balance is $2,500 and the combined limit for both cards is $15,000, so your balance to limit ratio is an excellent 16.7 percent. Close either card with an open balance and your balance-to-limit ratio goes up. If you close the card with the $15,000 limit, it goes up a lot, to 60 percent, which is definitely going to lower your score.
This can seem a little unfair, but it's the way it works. That's why as a general rule, although you can close any credit card at any time, it's better to keep cards open until they're paid off.
How Do I Close My Chase Bank Account?
If you're near a Chase branch, no doubt the best way to close your bank account to receive the balance immediately is to simply go into the branch. But just like closing your credit card, you can also close your bank account online, by phone, fax or snail mail. Again, the best of these methods is a phone call, and the procedure for closing either a savings or a checking account is very much like the procedure for closing a credit card. Be aware that Chase charges a fee, $25 per account as of May 2018, for closing an account that's been open for less than 90 days.
Sometimes, if the reason for the closing is compelling – you're in one of the armed services and are being transferred overseas, for instance – you can often talk your way out of this charge.
How Does Closing a Credit Card Affect Your Credit?
As long as there's no balance on the card, closing the card won't necessarily lower your credit score. Nonetheless, if it's a card with a high credit limit and there are no annual fees, it might be a good idea to keep it open to optimize your credit balance-to-credit limit ratio. If you've got plenty of capacity left on other cards, of course, closing one card won't affect your score.
Can You Pay Off a Closed Account?
You can pay off a closed credit card account whenever you like, and because of credit utilization ratios, it's an excellent idea. In fact, when you've got money available to lower credit card debt, always pay off any closed account first. One possible exception would be if one of the open cards has a very high interest rate, possibly because you've taken large cash withdrawals, which always have very high annual rates in the general area of 25 percent.
References
Writer Bio
I am a retired Registered Investment Advisor with 12 years experience as head of an investment management firm. I also have a Ph.D. in English and have written more than 4,000 articles for regional and national publications.