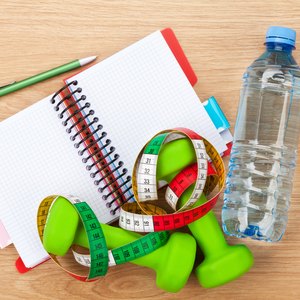 •••
karandaev/iStock/Getty Images
Originally started on Venice Beach in 1965, today, Gold's Gym is a global organization with fitness centers in 38 states throughout America. Like many gyms, having regular access to the fitness equipment and services at Gold's requires obtaining a membership and signing a membership contract. To cancel your membership, follow the steps outlined in the terms of agreement, which should be detailed on your contract.
As of April 2020, all Gold's Gym locations are temporarily closed due to the COVID-19 pandemic. Most locations are unable to actively monitor phones and email systems at this time. Gyms will begin reopening in accordance with state and local guidelines. During this time of closure, company-owned locations are freezing membership dues, so nobody will be billed.
Gold's Rules
Gold's Gym documents their cancellation policy on their official website; the terms should also be included in your membership agreement. All members must sign a cancellation form in person at a physical Gold's Gym location or mail a certified letter to the membership department requesting cancellation. Contact the location where your membership was originally started to obtain the proper mailing address for the certified letter. If you are unable to reach someone at your local gym, send an email to questions@goldsgym.com.
Gold's does require 30 days notice for cancelling any membership, so be prepared to continue to pay until that obligation is fulfilled. Gold's bills between the 12th and 15th of each month, and rates will not be prorated when cancelling a membership, according to their cancellation policies; you must pay the remainder of the current billing cycle in addition to another 30 days. For example, if you cancel your membership on the first day of the month, you will have to pay for the next 45 days.
Individual Clubs
Gold's Gym is a franchise organization, which means that different people may own the clubs in your area. Go to or contact the location where your membership originated and inquire about their specific membership cancellation policies. Though most gyms likely follow corporate policies, double-checking with your home gym can help to prevent any surprises in terms or fees. You can also review the membership agreement that you signed with your home location; it should specify any differences between the policies of the individual club and those of corporate.
Due to the COVID-19-related gym closures, representatives may take up to 10 business days to respond to cancellation requests. But all company-owned locations have frozen membership dues for the time being.
Documentation Communication
Keep a written record of all communication and correspondence that you engaged in with Gold's Gym. Make notations as to the individuals that you speak with, whether in person or on the telephone, and whether that person was based at your local gym or at corporate headquarters. Written communication provides the best means of tracking your efforts, however, remember that you cannot cancel your membership through email. When speaking to a representative of Gold's Gym face to face, document the person's name, date, time of conversation and detailed notes about what was said during the conversation. The documentation will help in the event that you need to take legal action against Gold's Gym for failing to cancel your membership in an appropriate manner.
Gold's digital personal training app, GOLD's AMP™ will remain free for all members and non-members through May 31, 2020.
Written Proof
Gold's Gym memberships are initially for a specific amount of time, such as one year, and then they transition into a month-to-month agreement. You may have to show an emergency of some sort to cancel before your contract expires, such as moving at least 25 miles out of the area or suffering a medical condition that prevents you from working out. Documentation must be provided to prove your cause, such as a lease agreement or utility bill to show that you are moving or a doctor's note to verify your medical condition.
References
Writer Bio
Beth Rifkin has been writing health- and fitness-related articles since 2005. Her bylines include "Tennis Life," "Ms. Fitness," "Triathlon Magazine," "Inside Tennis" and others. She holds a Bachelor of Business Administration from Temple University.