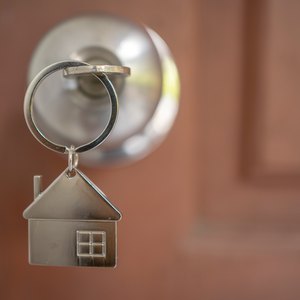 •••
boonchai wedmakawand/Moment/GettyImages
A house can be a great investment in your future, as you build equity with each monthly mortgage payment. But if you don't have the funds for a down payment and closing costs, it can feel like homeownership is shut off to you. Fortunately, there are some options such as down payment assistance programs and loan programs for those who don't qualify for conventional mortgage loans.
Initial Cost of Homebuying
Unless you have hundreds of thousands of dollars in the bank, buying a house means taking out a home loan. But most mortgage lenders require at least a little out-of-pocket money from you before closing. Gathering those funds can be expensive.
Here's a breakdown of the expenses you can expect to pay at closing:
​Earnest money:​ When you put a contract on a house, you pay ​1​ ​to 3 percent​ of the home's asking price as an earnest deposit. This money will be refunded once you've closed on the house.
​Down payment:​ Typically down payment requirements range between ​3​ ​to 20 percent​ of the home price. This cost is due at closing and will likely run in the ​tens of thousands​ of dollars.
​Closing costs:​ You can expect to pay another ​2​ ​to​ ​6 percent​ of the loan amount in closing costs. This includes administrative fees and title transfers.
​Broker fees:​ Each real estate agent takes a commission of the sale. This comes out of the purchase price, so technically both brokers are paid by the seller. In some cases, though, the seller may try to negotiate it so that the buyer pays part of this.
What do you do if you don't have ​tens of thousands​ of dollars in the bank? First, some of these costs can be negotiated, so make sure your real estate agent knows your situation from the start. But if you have no extra funds to put toward your home purchase, there are some other options.
No Down Payment Loans
With a conventional loan, you're required to put some money down. For many homebuyers, help from parents or other relatives takes care of these upfront home purchase costs. Others seek out a government-backed loan that offers options for down payment assistance.
Two loan types let you get into a house with no money down: a USDA loan from the U.S. Department of Agriculture and a VA loan from the U.S. Department of Veterans Affairs. USDA loans provide ​100 percent​ financing to homebuyers willing to buy a home in an eligible rural area. VA loans also provide ​100 percent​ financing, but they're limited to active duty military service members, veterans and their families.
FHA Loans and Down Payments
If you have a small amount to put toward a down payment and meet the eligibility requirements, an FHA loan from the Federal Housing Administration could be a great way to get yourself into the home you want. The best thing about an FHA loan is that you can get a mortgage with a lower credit score than is required of a conventional loan. This loan option can get you into a home with a down payment as low as ​3.5 percent​.
With an FHA loan, you need a FICO score of at least ​580​ to qualify for the ​3.5 percent​ rate. If your score falls below ​580​, the requirement is ​10 percent​, which is still lower than what you'd get with a conventional loan. On top of that, the interest rate you pay on the money you borrow will be lower than what you pay with a conventional loan.
Help with Closing Costs
Whether you go with an FHA, VA, USDA or conventional loan, you'll owe closing costs. If you don't have thousands of dollars to pay up front though, a low down payment won't help you when you still have to pay closing costs. Luckily, there are some options.
In some cases, buyers can negotiate the deal so that the seller pays all closing costs. Since homeowners may be in a better position to pay thousands of dollars up front, it could be a great way to put all your new home expenses into your mortgage rather than having to pay cash at closing.
In some cases, real estate lenders wrap closing costs into your total loan. You'll pay more each month, as well as interest on the extra funds, but it will get you into a house. Check to see if this is an option as you're shopping for lenders.
HomeReady™ Mortgages
Low- and moderate-income homebuyers have access to a program called a HomeReady Mortgage. The HomeReady program is built to encourage homebuying in areas that have been designated as low-income, minority or disaster-impacted, so you may be limited as to where you can buy with this loan.
You can qualify for a HomeReady Mortgage whether you're a first-time homebuyer or you've owned before. You need a credit score of ​620​ or greater to qualify. But if you're eligible, you can get into a home with a down payment as low as ​3 percent​. But the best thing about this type of mortgage is that your full down payment can be provided as a gift from a relative.
There are also down payment programs that can help you get into a HomeReady mortgage. There are local down payment programs across the country that can cover up to ​100 percent​ of your down payment on a HomeReady mortgage.
Local Homebuying Assistance Programs
Don't discount local homebuying assistance programs. Designed to promote homeownership, these programs typically focus on helping with down payments and closing costs. Here's a small sampling of the programs available in some of the most populous states.
​California​: The MyHome Assistance Program provides junior loans of ​3.5 percent​ on FHA loans and ​3 percent​ on USDA loans, conventional loans, and VA loans to help with your down payment and/or closing costs.
​Texas​: For first-time home buyers, there's My First Texas Home, which provides a ​30-year​, low-interest loan with up to ​5 percent​ assistance that you can use for your down payment and/or closing costs.
​Florida​: There are multiple assistance programs available through the Florida Housing Finance Corporation, including down payment assistance grants, an interest-free second mortgage to help with home purchase costs and a ​$15,000​ interest-free loan available to residents of certain counties.
​New York​: Through New York's Homes and Community Renewal Department, the State of New York Mortgage Agency offers a down payment assistance loan in the form of a second mortgage for the amount.
Good Neighbor Next Door Program
Public servants like teachers, police officers, firefighters and emergency medical technicians can get into a home for as little as ​$100​ with the Good Neighbor Next Door program. Best of all, you can save up to ​50 percent​ on the cost of a home. If you go this route, you'll be responsible for lining up financing and paying broker fees and closing costs.
If you're in a qualifying profession, get started by going to HUD's home listing database and clicking on your state. There are a limited number of HUD Good Neighbor Next Door homes and the listings change constantly. You'll be required to sign a second mortgage and note for the ​50 percent​ that's being discounted on the home, and you have to stay in the home for at least ​three years​.
Primary Mortgage Insurance
As nice as it can be to find a low- or zero-down mortgage, there's a catch. Lenders require you to pay premiums on something called private mortgage insurance (PMI) - not to be confused with mortgage insurance - unless you're shelling out at least ​20 percent​ as a down payment. Once you've paid your principal loan balance down to ​80 percent​, you can typically ask your lender to remove the PMI.
PMI is associated with conventional lenders, but FHA loans have a form of insurance that also adds mortgage insurance premiums to each mortgage payment until you've paid off ​80 percent​ of the amount financed. USDA loans have an upfront guarantee fee of ​1 percent​ of the loan and an annual fee of ​0.35 percent​ of the loan.
VA loans don't require insurance, but you pay a funding fee. With a down payment of less than ​5 percent​, the VA funding fee is ​2.3 percent​ of the loan. Compare this to a funding fee of only ​1.65 percent​ for a down payment of ​5 percent​ or more, or ​1.4 percent​ if your down payment is ​10 percent​ or more.
Downsides of No Money Down
Before you take a mortgage with a low or no down payment, it's important to consider the cost of that. There is, of course, the extra insurance you'll have to pay in the form of PMI, which will boost your monthly payments. Since you have less invested in the house at the start, that means it will also take you longer to build equity, which means you'll need to live in the house longer to get equity in it.
Of course, by going with a lower down payment, you may not qualify for the best mortgage rates available at the time. Lenders quote their current interest rates as a range with higher rates for those with low credit scores, and the borrowers who pose the least amount of risk fall on the lower end of that range. If you have a big down payment, a high credit score and a low debt-to-income ratio, you'll get a lower rate that helps save you significant money over the course of your repayments.
Funding Your Home Purchase
If you'd prefer to avoid PMI, or at the very least reduce the amount of the loan you'll be repaying for years, there are a few ways to get the down payment and closing costs you need.
Here are some suggestions:
​Accept a gift:​ Lenders restrict how you can fund your down payment, but taking money from close relatives is an option. The IRS currently lets each person give a tax-exempt gift to each individual of up to ​$15,000​ per year. If you have two parents, that means each of them can give you ​$15,000​.
​Set money aside each month:​ It could take a while, but if you can save ​$50​ a week, at the end of the year, you'll have ​$2,600​ toward closing costs.
​Get a side hustle:​ A part-time job or gig work can help you accomplish your savings goals much faster.
​Save your tax refund:​ If you get a refund each year, that's extra money you can put toward the upfront cost of buying a house.
​Borrow from retirement accounts:​ This should be a last resort, but if you have money set aside for retirement, it could be a good financial decision. If you're getting into a primary residence in which you can start to build equity, that money could pay off down the road, even opening the door to a home equity loan in the future as a way to cash-out your equity. If you take this option, make sure you start putting money back into the account as soon as you can.
You can get into a house with no money down, as long as you know the resources available. Check with your favorite lenders to determine your own mortgage options so that you're getting all the benefits available to you as a homebuyer.
References
Resources
Writer Bio
Stephanie Faris has written about finance for entrepreneurs and marketing firms since 2013. She spent nearly a year as a ghostwriter for a credit card processing service and has ghostwritten about finance for numerous marketing firms and entrepreneurs. Her work has appeared on The Motley Fool, MoneyGeek, Ecommerce Insiders, GoBankingRates, and ThriveBy30.