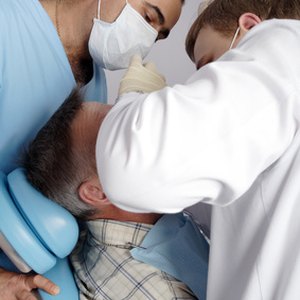 •••
two dentist image by Andrey Kiselev from Fotolia.com
There's nothing worse than having a major toothache with no dental insurance. Paying out of pocket for dental care can be costly, so if there is a dental school in your area, it is a wise choice to check out their services. Dental schools have patients treated by a dental student under the supervision of a faculty member who is a licensed dentist. The costs for dental school services is generally 30 to 60 percent lower than private practice fees. Appointments last anywhere from three to five hours, giving the students enough time to learn while they work.
Search for a dental school in your area. The Dental Site (www.dentalsite.com/dentists/densch.html) breaks down dental schools in each state.
Browse through the dental school's website of your choice for information on becoming a dental patient. Read the basic information found on the web page for eligibility requirements as well as information regarding if the particular school is accepting new patients at the current time.
Call the phone number listed on the website for new patients, or visit the receptionist within the clinic itself. Provide details about your current dental problem to the person making the appointment.
Make an appointment date and time, or place your name on a waiting list if your current dental problem is not an emergency. This appointment is often a prescreening and not a guarantee of services. Pay any fees due at registration, or find out what methods of payment they accept.
Arrive at your appointment early, and be prepared to fill out registration paperwork if you hadn't already done so. Provide a method of payment, and wait to be seen by the dentist.
Receive an evaluation by a dental student being supervised by a licensed dentist. The clinic will then decide if your dental situation is something they can use to meet the training needs of the students.
Make another appointment if you are accepted to receive services through the dental school. The next appointment will include x-rays and a plan of treatment. You will be assigned one particular student to perform the dental work.
References
Writer Bio
Kelly Masi, born and raised in upstate N.Y., has been writing professionally since 2009. She has been writing for various instructional websites since November 2010 and has also written for the website CafeMom. She received her associate degree in early childhood education from Fulton Montgomery Community College.