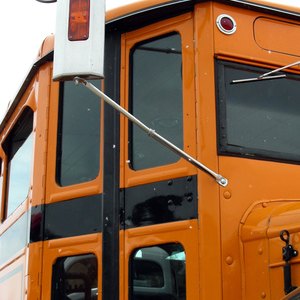 •••
kid transportation image by John Sfondilias from Fotolia.com
Those on Medicaid often do not have access to transportation. This can be a problem. especially when recipients need to go to the doctor. The federal government has solved this problem by allowing states to arrange transportation for Medicaid recipients. Individual states have been given much leeway in arranging transportation. Some states rely on volunteers, others on subways, taxis, buses and other forms of transportation.
Check your state's Medicaid website, and read the information on becoming a transportation provider. Each state has different policies regarding transporting Medicaid patients. A list of state Medicaid websites is available at http://64.82.65.67/medicaid/states.html. You must be at least 19 years old. You must have a valid driver's license and automobile insurance. You should have a good driving record. DUIs, traffic tickets and multiple accidents will disqualify you. Many states, like Nebraska, allow you to have no more than three points on your driving record.
Submit a record of your driving history, criminal background check and service provider agreement to your state's Medicaid office. Certain offenses such as child molestation, felonies and drug convictions will disqualify you.
Get a medicaid billing number. After your application is approved by your state's medicaid office, you will receive a medicaid billing number and instructions on how to file a claim. Medicaid pays a set rate that cannot be negotiated.
Every year a background check and driving record must be resubmitted to the state's medicaid office. Failure to do so will terminate your participation in the transportation of Medicaid patients.

Keep accurate records on clients and payments received.
References
Resources
Writer Bio
Theresa Bruno began her writing career as a librarian in 2008. She published an article in "Indiana Libraries" and has written many book reviews for "American Reference Book Annual" and "Reference and User Services Quarterly." Before becoming a writer, Bruno received a bachelor's degree in history/religious studies from Butler University and taught American history at Ivy Tech Community College.