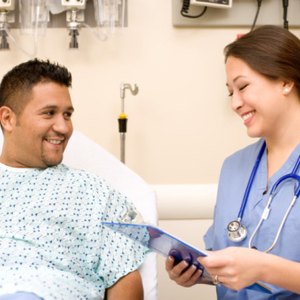 •••
Jupiterimages/Photos.com/Getty Images
The State of New Jersey has a Charity Care Program for individuals who have little to no insurance. This program helps pay some or all of a recipient's hospital expenses. This includes emergency room visits, hospital stays and testing done as an outpatient. The amount of help an individual receives with these bills depends on their income. To find out if you qualify, you must fill out an application.
Call or visit your local hospital's business or admissions office to request a Charity Care application. You can pick up the application in the office, or have it mailed to your home.
Fill out the paper application, and gather documentation to prove the income and assets you listed in the application.
Submit the application to the hospital. As long as your application and documentation is complete, you will receive a decision within 10 business days. Once approved, help will continue for a period of one year.
Call 866-588-5696 with any questions or concerns about New Jersey's Charity Care Program.

You can apply for help for expenses that occurred within the last 12 months.
References
Writer Bio
Alicia Bodine is a New Jersey-based writer specializing in finance. With more than 13 years of experience, her work has appeared in LendingTree, GoBankingRates, Sapling, Zacks and budgeting.thenest.com.