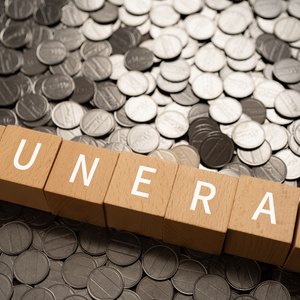 •••
Seiya Tabuchi/iStock/GettyImages
When someone dies, a funeral helps celebrate the person's life and gives loved ones an opportunity to say goodbye. But average funeral costs are on the rise, leading some consumers to check to make sure they have enough life insurance to cover the expense. A funeral will cost thousands to tens of thousands of dollars, depending on the scope of the service and your location.
Average Funeral Costs
Inflation has bumped up costs throughout the U.S., and funeral expenses are no exception. In ​2021​, the median cost of a funeral was ​$7,848​, which is an increase of ​6.6 percent​ since ​2016​. Cremation is a less expensive option, with a median cost of ​$6,970​, an ​11.3 percent​ increase since ​2016​.
The cost of a funeral can vary widely from one area of the country to another. You may also find funeral homes in the same area have widely different fees since each business sets its own prices. Your choice of casket and cemetery marker also affects your overall cost.
Types of Funeral Expenses
Any average cost of a funeral is only an estimate, but it's important to look at each type of expense, as well as the median cost nationwide of each funeral expense.
​Basic services fee:​ $2,300
​Remains transfer fee:​ $350
​Embalming fee:​ $775
​Other preparation fee:​ $275
​Viewing fee:​ $450
​Funeral ceremony fee:​ $515
​Hearse usage fee:​ $350
​Service car/van fee:​ $150
​Printed materials:​ $183
​Metal burial casket:​ $2,500
The basic services fee will be applied to any funeral, but the other features can be negotiated, and in some cases, declined. Other preparation fees can include activities like applying cosmetics, hair adjustment and dressing the body. If you want a metal vault for the casket, there's an additional median cost of ​$1,572​.
Types of Cremation Expenses
Cremation is often a matter of personal preference, but it is, overall, more affordable than burial. You will save money on burial vessels since an urn is cheaper than a metal burial casket. But many of the other expenses remain applicable.
​Basic services fee:​ $2,300
​Remains transfer fee:​ $350
​Embalming fee:​ $775
​Other preparation fee:​ $275
​Viewing fee:​ $450
​Funeral ceremony fee:​ $515
​Service car/van fee:​ $150
​Printed materials:​ $183
​Cremation fee:​ $368
​Cremation casket:​ $1,310
​Urn:​ $295
Some funeral homes have on-site cremation services, which will reduce cremation costs. You may choose cremation in addition to a burial plot, at which point, you'll see burial costs. You can have the cremation done separately and host a memorial service or funeral at a funeral home, ensuring you get the best price on each.
A funeral will cost thousands to tens of thousands of dollars, depending on the scope of the service and your location.
Preplanning Your Funeral
One of the best ways to reduce the load on survivors is to plan your funeral in advance. This has the added benefit of ensuring your funeral service and burial are as you want them to be. In some cases, funeral planning lets you purchase a package that reduces your costs.
Final arrangement planning also lets you shop around and make sure you're getting the best pricing. You don't have to purchase the casket through the funeral home, and you might find better prices elsewhere. Don't feel pressured to buy a package that doesn't include all the features you want.
Paying for Funeral Expenses
Before you make arrangements for a deceased loved one, check for any life insurance policy documents. In most cases, you'll likely find the family has to pay for the expenses out of pocket and file a claim for reimbursement. But if the deceased paid for burial insurance, benefits are often immediately paid to either the beneficiary or the funeral home.
Most funeral homes won't set up payment plans and will expect payment at the time the order is placed. If your savings don't pay the costs, you may be able to land a personal loan to cover the expenses. You may also be able to raise money for funeral expenses from friends and relatives using a crowdfunding site like GoFundMe.
Saving for Funeral Costs
The problem with life and final expense insurance policies is that often the premiums you'll pay will exceed the amount you'll owe for the funeral. If you put that money aside in a savings account, it would get the same results without having to file a claim. But traditional savings and investment vehicles may be subject to probate, keeping them inaccessible for months.
A great alternative to these probate-sensitive savings vehicles is a joint account that you share with the person who will administer your estate. You can also set up a payable-on-death savings account and name a beneficiary. This will keep the funds away from probate while also avoiding having to share your regular savings account with someone else while you're living.
Cost-Cutting Funeral Options
Funeral arrangements can create a financial burden. There are a few options to cut costs.
​Skip embalming:​ Embalming is one of the most expensive funeral costs, and many funeral homes will let you skip it.
​Veterans burial:​ Military veterans are eligible for burial benefits. Unless you received a dishonorable discharge, you're probably eligible for a free burial in a military cemetery. Veterans are also eligible for burial allowances for burials in private cemeteries.
​Direct burial​: A person can be buried without a service, marker or viewing. You might be able to take this option and add on a graveside service. Direct burials often take place without a headstone, but you could also ask to add a grave marker for a fee.
​Direct cremation:​ As with direct burials, direct cremations happen without a funeral service. This means you're only responsible for cremation costs. Some opt for a direct cremation with a small memorial service later.
​At-home burials:​ At one time, private cemeteries were located on the property of family homes. This is still an option, although local laws will determine exactly how this is handled.
​Federal assistance programs:​ In some instances, such as national disasters and pandemics, the Federal Emergency Management Agency offers grants for funeral expenses.
​Local government assistance:​ Some municipalities offer burial assistance to residents in need. You'll have to apply and meet the qualifications to be eligible.
​Medical school donation:​ To skip the cost of cremation or burial, some people donate their bodies to medical science. You can then use any funds you have saved for funeral costs or a small memorial.
The Impact of Funeral Expenses
A funeral can have a lasting impact on your finances. It can also reduce your credit score if you're late on paying or you have to take a loan for the expense. Funeral providers know what a struggle funeral expenses can be and will give you options to reduce the financial impact.
If you're facing funeral expenses, shop around and compare multiple offerings. Get a general price list for all the options that meet your loved one's preferences and compare the cost of buying as part of a bundle to selecting items separately and building a funeral service that works both for your needs and your budget.
The total cost of a funeral can be overwhelming, but not everything that's included in pricing estimates is necessary. You can skip some items and buy your own casket and headstone to keep prices low. Preparing in advance by planning your funeral and setting money aside can give your loved ones peace of mind during a difficult time.
References
Writer Bio
Stephanie Faris has written about finance for entrepreneurs and marketing firms since 2013. She spent nearly a year as a ghostwriter for a credit card processing service and has ghostwritten about finance for numerous marketing firms and entrepreneurs. Her work has appeared on The Motley Fool, MoneyGeek, Ecommerce Insiders, GoBankingRates, and ThriveBy30.