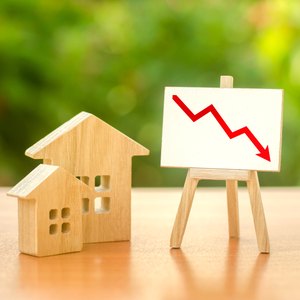 •••
Andrii Yalanskyi/iStock/GettyImages
Many consider mortgage rates to be the pulse of the national economy, and they sank lower and lower in late 2019 and early 2020. Then the Federal Reserve unanimously slashed the federal interest rate twice in mid-March 2020, down to 0.10%, and this is expected to affect mortgage rates, too.
Can this go on much longer? How low can mortgage rates go? Should you rush out and refinance your mortgage immediately? Maybe. Or maybe not.
A Little History
2020 isn't the first time mortgage rates have plummeted. Scroll back to November 2012. Rates dropped in that month to the lowest point ever, before or since: 3.31%. A month later, on Dec. 5, 2012, they'd crawled back up to about 3.5%.
On the flip side, rates hovered above 9%, sometimes significantly, from 1986 through 1991, then again in 1994 and 1995. They're not quite as low as they got in 2012, but it's been a volatile year and we're just getting started. The current rate is significantly less than in was in the '90s.
The 2020 Plunge
Depending on who you talk to, the average 30-year fixed-rate mortgage interest rate was 3.7% at the end of January 2020. That number seems to be rounded up slightly because Freddie Mac put it at 3.62%, and splitting hairs does matter when you're talking six-figure mortgages.
Then rates dropped again to 3.47% in February. They were hanging in at just under 4% by mid-March when the Federal Reserve made its moves, a slight increase, but they were back down to 3.5% a week or so later.
Why Is This Happening?
This is all largely the result of the coronavirus – COVID-19 – that's been sweeping the nation and the world since late 2019. The World Health Organization declared the virus to be a global emergency on Jan. 30, 2020. Greg McBride, the chief financial analyst at Bankrate, points out that inflation was already at a relatively low point at that time, and the uncertainty brought about by COVID-19 hit on top of that. And, less we forget, oil prices have plunged in 2020 as well, and this factors in, too.
Home sales have been simultaneously lagging and this has also historically prompted a reduction in mortgage interest rates. Currently, real estate agents are reluctant to hold open houses and show homes for fear of COVID-19 contagion, according to the National Association of Realtors who issued guidelines for doing so on March 20.
As for the moves by the Federal Reserve in March, it should be noted that the federal rate doesn't determine mortgage rates, but they often move in tandem with each other. And the whole idea behind the federal rate cuts was to stimulate the economy in a rocky time as the stock market plunged to dramatic lows in response to the virus. The goal was to prompt consumers into borrowing – and yes, borrowing money for home purchases – so the economy wouldn't crash altogether.
What Does It Mean for Consumers?
It's probably not advisable to jump into a major financial commitment like taking on a mortgage simply because interest rates are near an all-time low. But you might want to strike while the iron is cool if you were already considering buying a home or refinancing – assuming that you live in a state or county that hasn't yet issued a stay-at-home order for most citizens so you feel that you can safely carry on with your home search.
Even so, you might want to shop for a mortgage online, and that's the key word here – shop. You're not necessarily looking just for the best interest rate but for the best mortgage terms overall. Keep in mind that by March 11, refinance applications had more less doubled from where they were a year ago, according to the Mortgage Bankers Association, so it's a lenders' market.
With that in mind, you might want to make sure that your potential lender has all necessary documentation from you so you can lock in a rate when you decide to make a move. You'll want to lock in and guarantee the rate when and if it hits a historic low, and you might have only a matter of hours to do so in the current economic environment.
How Low Can They Go?
Just as we have no idea when and how COVID-19 will be contained, there's no telling the effect it will have on mortgage interest rates going forward and on the economy in general. Danielle Hale, the Chief Economist at Realtors.com, has indicated that rates will most likely continue to drop, albeit marginally, should the number of confirmed coronavirus cases and deaths continue to rise. Likewise, rates will probably begin to increase again when the virus appears to have been contained.
McBride, the Bankrate CFA, has indicated that rates will probably remain low-ish throughout 2020, but that it's extremely unlikely that they'll get to 0%. Still, you might want to keep your eye on the situation, checking rates daily, and be ready to pull the trigger should another significant decrease occur. You'll still be in a pretty good 15- or 30- year position over the life of your mortgage if they sink even more the next day, and depending on COVID-19, there's always the chance that they could begin sneaking upward tomorrow.
References
Writer Bio
Beverly Bird has been writing professionally for over 30 years. She is also a paralegal, specializing in areas of personal finance, bankruptcy and estate law. She writes as the tax expert for The Balance.