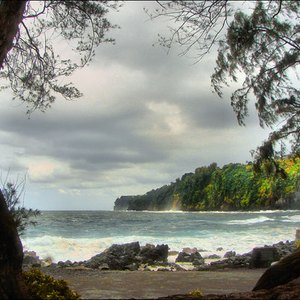 •••
Image by Flickr.com, courtesy of Alan L
Hawaii is beautiful, but it is also one of the most expensive places in the world to live. You can find inexpensive homes, but it's important to be aware of what you are getting for the price. Some parts of Hawaii are very unfriendly to outsiders, and in other parts you may find dealing with the volcano, mudslides and red earth more than you bargained for. However, in a down housing market, you will find some great deals. Hawaii is in large part a second-home market, so prices tend to drop there first and recover last in the real estate market.
Hawaii's Four Major Islands
Oahu, Hawaii (the Big Island), Maui and Kauai make up the major islands of Hawaii, and each has a different character. Oahu, with 75 percent of the population, contains the most opportunity and conveniences (like the state's only international airport), but it is very tight on space. The Big Island has many fewer people per square mile, but it also holds the volcano Kilauea, which has hazards and inconveniences most people have not considered. Maui and Kauai are smaller and less populated, but they are also very exclusive, with very high property costs and fewer job opportunities for those who are not from Hawaii.
Maui and Kauai
Maui is known for its many celebrity inhabitants as well as its natural beauty. If you can get a home on Maui, you're likely to see stable or increasing housing value over time. However, Maui's cost of living is significantly higher than many other places in Hawaii. Kauai is similar to Maui, only quieter and more remote. On both islands, you will not find that dreamy beach property for less than a couple of million dollars, and even then only if you get very lucky at the right time. Instead, most people looking for a home here purchase a condominium or a small inland house.
Home prices here average a half-million dollars, even for relatively small houses. You can find condominiums for less than $200,000.
Hawaii, or the Big Island
The Big Island has much more opportunity for home ownership than Kauai or Maui. There are only two major metropolitan areas, Hilo and Kona. Much of the island is rural, with a significant swath to the west and south dominated by the volcano. You may be able to find very good home prices in volcano country, but you run a real risk of losing your home to new lava flows opening up, and you'll also have to deal with vog, a nasty volcanic gas pollution that can exacerbate asthma and allergies. Rural tracts are much more attractive, if a bit pricier. Living near Hilo will keep you away from most of the vog. Overall, you'll find great house values on the Big Island if you shop wisely.
A house on the Big Island will cost about half as much as a similar house on Kauai or Maui, and there are some great deals available depending on where you're willing to live. Condominiums average lower as well, but you'll still pay around $150 to 200K at the low end.
Oahu
Oahu can be divided into five major areas: the Windward Coast near Kaneohe, Honolulu and Waikiki, the Leeward Shore, the central plateau, and the North Shore. Of these areas, Leeward Shore and the central plateau have the most real estate opportunity. Honolulu is very built up, with homes halfway up the mountains that border it to the north; if you're not buying a condominium, you will have trouble finding a home in a good neighborhood. Hawaii Kai, on the east side of Honolulu, is a very nice area, and a home here is often a good buy as well as a good value.
The North Shore and Windward Coast are both narrow strips of land sandwiched between the ocean and the Ko'olau Mountains. While home prices here are often low, non-kama'aina (island people) are frequently not welcome in the neighborhood, nor is further development.
Leeward Shore is also a strip of land sandwiched between ocean and the Waianae Mountains, but much of the land here is underdeveloped and has long been ignored. Several new resorts have been developed in this region recently, and with resistance to development on other parts of the island, this trend is unlikely to slow. The central plateau of the island is much farther from the ocean than other regions, but it has a very relaxed feel and plenty of undeveloped property as well as inexpensive homes for sale.
Home prices on Oahu vary widely, but they average somewhere between Big Island home prices and Maui/Kauai prices.
Other Islands
Hawaii has a total of about 19 islands capable of supporting human habitation, but for a variety of reasons all the islands except the four previously listed are not viable real estate markets. Some, like Niihau, are closed to non-Hawaiian natives. Others are owned by the state or federal government and protected for environmental and safety reasons.
Conclusion
Housing values in Hawaii depend greatly on your needs. If you have a location-free telecommute or independent job, the Big Island offers the best deals and a very relaxed lifestyle. If, however, you need to have a job outside your home, Oahu offers some excellent bargains. Smart shopping in the Hawaiian housing market will turn up some great deals.
References
Writer Bio
Jamie Wilson has written online content for over a decade on a wide variety of subjects. Currently, she is the Augusta Military Lifestyles expert for a prominent website. She is also a published fiction writer and experienced Web designer working on a Master of Fine Arts in creative writing.