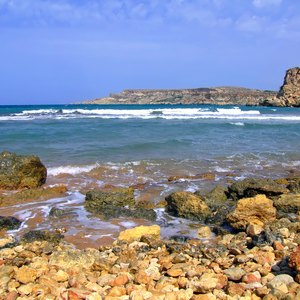 •••
Mediterranean Bliss image by FotoWorx from Fotolia.com
When choosing a place to enjoy your retirement years, the climate, cost of living, crime rates and lifestyle are undoubtedly some things that you will consider. Many choose to live in the Mediterranean because it has much to offer in the way of these characteristics. When thinking about living in a foreign country, you also want to consider one with a stable government, a thriving economy and friendliness to ex-pats. Here are some of the best places to live on the Mediterranean coast that we think have plenty to offer retirees.
Best Cities in Mediterranean Region
You might wonder what is the best Mediterranean country to live in. Fortunately, you have plenty of excellent options. The countries on this list are all friendly to ex-pats and have plenty to offer when it comes to quality of life. Here are some of the best cities in Mediterranean countries.
1. Valletta, Malta
If it is beaches you want, Malta's three islands off the coast of Italy have a lot to offer. Valletta is Malta's capital, and the Baroque architecture might make you feel like you have stepped into a museum. The streets were laid out to allow the sea breezes to drift through the streets on hot summer days. English is the official language, and the cost of living is reasonable.
2. Malaga, Spain
Spain is considered the best Mediterranean country to live in for many reasons, and Malaga is a favorite destination for retirees. This gorgeous city is located in Spain's Costa del Sol and is similar to Southern California. Many Europeans and British retirees make this area their home.
One of the reasons why this is a favorite retirement destination is that it offers healthcare to ex-pats through its national healthcare system. The average cost of living for a couple is around ​$2,200​ per month, and it is possible to live on even less in the smaller towns in the area.
3. Agios Nikolaos, Crete
If you are looking for a relaxed, laid-back pace of life, Agios Nikolaos on the Island of Crete is the perfect spot. This city was a favorite resort spot in the 1970s, and now it offers a break from the tourist attractions. It is one of the best places to live on the Mediterranean coast because of its gorgeous landscape and ancient architecture. By night, it still has a resort feel with plenty of opportunities for enjoying the nightlife.
4. Sicily, Italy
Sicily, Italy, is a gorgeous mountainous city, and it is one of the best cities in Mediterranean countries for its beautiful views and excellent public transportation system. Many in this city do not even bother with owning a car. It is extremely walkable, which is good because it is also the Street Food Capital of Europe. If you buy property, it is relatively easy to get a long-term visa or permit to stay.
5. Occitanie, France
This gorgeous little gem on the southern coast of France has over 110 miles of Mediterranean coastline. It has a range of soil types that make it excellent for growing many different regional wines. It is a wine lover's paradise, and the cost of living is relatively low. The weather is warm, and they have an excellent health system.
Now, you have a few ideas to get you started planning your retirement in a Mediterranean paradise. The best Mediterranean country to live in depends on what features are more important to you. Many other options are available, and we think you should start exploring affordable options where you can enjoy the warm sunshine and salty sea breeze.
References
Writer Bio
Adam Luehrs is a writer during the day and a voracious reader at night. He focuses mostly on finance writing and has a passion for real estate, credit card deals, and investing.