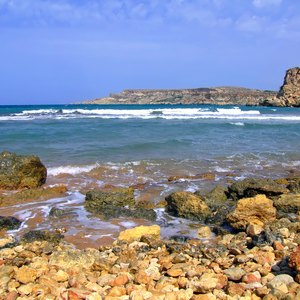 •••
Mediterranean Bliss image by FotoWorx from Fotolia.com
Many would be surprised to learn it's actually cheaper to retire in an overseas location, than it is in certain parts of North America. With its subtropical weather consisting of warm summers and mild winters, plus the historic landmarks and exquisite beauty, the Mediterranean offers several inexpensive places to live out your golden years. According to International Living's 2010 Annual Retirement Index, your earnings will go farther, the lifestyle is healthier and your healthcare is much cheaper abroad.
Malta
According to the 2010 International Living's Annual Retirement Index, this group of Mediterranean islands are said to have "the best climate in the world." Malta is a Mediterranean location that isn't inundated with annual tourists. So if you're looking for a breathtaking location to live, plus enjoy the peace and quiet, Malta would be the right choice for you. The southern part of the island is less expensive when it comes to renting or buying a flat, and the area's public transportation system is quite efficient, so owning a car is not a necessity for residents.
Greece
Being one of the most popular locations in the Mediterranean, Greece captures the hearts of a number of retiree's annually. Where you live in Greece will depend on your lifestyle and income. Like most countries, the coastal regions will cost retiree's more, while living further inland can be relatively cheaper. You'll find many of the less expensive flats and homes are older, some dating back over a hundred years or more. Another good thing about Greece - your food costs are minimal as their market prices are much lower than the United States.
Italy
The southern coast of Italy is one of the most affordable Mediterranean locations to retire. As of 2009, townhouses near the Adriatic beaches were going for $26,000. These are more often than not, 'fixer-uppers', but still even investing an extra $25,000 into renovations would only amount to $50,000 total for a house in Italy. Compared to what townhouses go for in the United States, that's a steal. Health care in Italy is also attractive, ranked No. 2 on the list of countries that offer quality and affordable health services as per the World Health Organization.
France
With low-cost rent and home purchase prices along its countryside and coastal regions, France is another popular Mediterranean retirement location. France is rated the highest in regard to low healthcare costs and quality programs by the World Health Organization. According to International Living, France is one of the easiest European locations to gain residency. The paperwork is minimal and doesn't take long (approximately three months) to go through the approval process. The consistent temperatures in France are attractive to retiree's too. You can expect a daily average ranging from 60 to 75 degrees Fahrenheit.