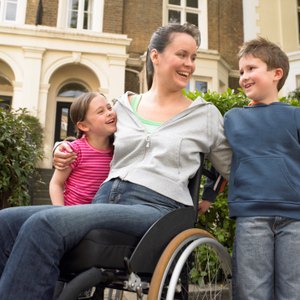 •••
John Rowley/Photodisc/Getty Images
Disabled individuals often require specially modified living accommodations. Finding suitably equipped homes can be difficult and costly. Government agencies provide financial assistance to homeowners and landlords in Ontario renovating housing that will accommodate those with disabilities. Funds are also available to help disabled adults with housing-related costs such as rent and utilities.
Residential Rehabilitation Assistance Program
Canada Mortgage & Housing Corporation (CMHC) has a program providing financial assistance for homeowners and landlords renovating a house to accommodate a self-contained unit for a disabled adult. Self-contained units have a kitchen, bathroom, and their own entrance. A Garden Suite is a separate building on one piece of property and also qualifies. Construction must meet local building and zoning laws. Funds are given as a forgivable loan, and are non-\repayable as long as the program conditions are met. As of March 2011, amounts range from $24,000 to $36,000 depending on the location of the home.
Residential Rehabilitation Assistance Program for Persons with Disabilities
CMHC has a second program to help fund the cost of disability-specific modifications to homes. Homeowners and landlords with rental units meeting specific conditions can apply for both programs. Funds can be used to improve access within the home, increase safety features, and improve daily living conditions. Examples of qualified modifications include wheelchair ramps, chair lifts, handrails, increasing height of counter tops and adjusting locations of doorbells and fire alarms. The maximum amounts are $16,000 to $24,000 for homeowners and $24,0000 to $36,000 for landlords. An operating agreement requires homeowners live in the home for up to five years.
March of Dimes Home Modification Program
The Ontario March of Dimes Organization advocates better living environments and accessibility for individuals with disabilities. Applicants for the Home and Vehicle Modification Program can receive up to $15,000 for renovations to a home to accommodate a disabled adult or child. Individuals with household incomes exceeding $35,000 may receive a lesser amount. This program is for applicants who have exhausted other sources of assistance.
Ontario Disability Support Program Assistance
Participants in the ODSP may qualify for the Community Start Up and Maintenance Benefit to assist with certain housing needs. This program provides a lump sum to help with the costs of moving for a variety of reasons including eviction, leaving an institution to live independently and fleeing an abusive situation. Funds can be used for rent and utility deposits, overdue bills and purchasing furniture. As of March 2011, parents of children under 18 can receive up to $1,500 during a two-year period, and adults without children can receive up to $799.
References
Writer Bio
A former financial adviser with more than a decade of experience in personal finance and small business banking, Sarita Harbour is a professional writer specializing in personal finance, small business, technology, and content marketing techniques. Her writing appears online at sites such as Yahoo! Homes and Bob Vila. Harbour holds a bachelor's degree in psychology and computer science from the University of Guelph and the Personal Financial Planning designation from the Institute of Canadian Bankers.