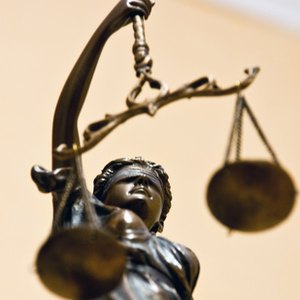 Although they're often maligned for chasing ambulances, attorneys are involved in almost every angle of personal and business industry. Lawyers may be held on retainer, where a client deposits an amount of money to cover expenses for a certain amount of time, or paid by the hour. These fees vary not just across the type of law practiced, but also across the country. In Michigan, attorneys' fees were significantly lower than the country's median.
Facts
According to its nationwide study in 2009, the U.S. Department of Labor Bureau of Labor Statistics reported attorneys across the country averaged hourly rates of $62.03. This figure is significantly higher than Michigan's median hourly fee for its lawyers, who averaged $45.77. On a 40-hour per week, 4 weeks per month range, this would translate to approximately $33,821 less per year compared to the national average.
Ranges
Some of Michigan's 13,290 attorneys (as of May 2009) did earn at or higher than the national average. In Michigan's top 90th percentile of earners, rates topped $80 per hour. On the opposite end of the spectrum, Michigan's lowest 10th percentile of lawyers averaged $24.05 per hour.
Considerations
The path toward earning a salary as a lawyer in Michigan is long. Prospective attorneys seek undergraduate degrees and apply to one of 200 accredited American Bar Association law schools, including five in Michigan: Michigan State University College of Law, Wayne State University Law School, University of Detroit Mercy School of Law, The Thomas M. Cooley Law School and the University of Michigan Law School. Attorneys must pass the bar exam; licenses are not reciprocal – attorneys moving states must take the bar exam in their new location.
Outlook
The U.S. Department of Labor Bureau of Labor Statistics expects a continued 13 percent growth in employment of attorneys through 2018, adding 98,500 jobs to the field across the country. The BLS recommends attorneys focus on smaller communities in Michigan when starting new practices to avoid competition.
2016 Salary Information for Lawyers
Lawyers earned a median annual salary of $118,160 in 2016, according to the U.S. Bureau of Labor Statistics. On the low end, lawyers earned a 25th percentile salary of $77,580, meaning 75 percent earned more than this amount. The 75th percentile salary is $176,580, meaning 25 percent earn more. In 2016, 792,500 people were employed in the U.S. as lawyers.
References
Writer Bio
Fionia LeChat is a technical writer whose major skill sets include the MS Office Suite (Word, PowerPoint, Excel, Publisher), Photoshop, Paint, desktop publishing, design and graphics. LeChat has a Master of Science in technical writing, a Master of Arts in public relations and communications and a Bachelor of Arts in writing/English.