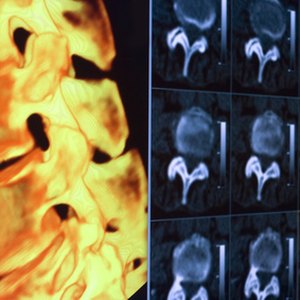 •••
Wirbelsäule - Computertomographie image by Daniel Schmid from Fotolia.com
Most successful hospitals known for diagnostics are academic or teaching hospitals with a variety of specialists and well-staffed research facilities. Research into new techniques to diagnose medical problems, successful use of new technology and excellent patient care that provides advanced treatment can place medical facilities on a list of hospitals known for diagnostics.
Mayo Clinic
Mayo Clinic is the largest nonprofit group practice in the world with locations in Minnesota, Arizona and Florida. Clinical trials, research studies and doctors from many specialties work to diagnose and cure patients. Mayo Clinic is a high-quality facility named one of America's Best Hospitals by U.S. News and World Report for 21 years in a row.
Mayo Clinic 200 First St. SW Rochester, MN 55905 507-284-2511 mayoclinic.org
Cleveland Clinic
Cleveland Clinic is a nonprofit, multibuilding teaching facility that combines clinical care, hospital care, research and education in many specialties. Diagnostic procedures include laboratory testing, X-rays, electrocardiographs, ultrasounds, radiography, nuclear imaging, endoscopy, mammograms, CT scans, MRIs and invasive testing. Cleveland Clinic's heart program has been named best in the nation for 16 straight years by U.S. News and World Report, and many other specialty areas have been in the top 10. Cleveland Clinic also has a center for consumer health programs.
Cleveland Clinic 2049 East 100th St. Cleveland, OH 44195 800-223-2273 my.clevelandclinic.org
Doctors Diagnostic Hospital
Doctors Diagnostic Hospital is an investor-owned, for profit, full-service medical facility accredited by the Joint Commission on Accreditation of Healthcare Organization. Services include inpatient and outpatient laboratory services, radiology, X-ray, ultrasound, CT scans, magnetic resonance imaging, ENT, endoscopy, medical and surgical services and a patient education center.
Doctors Diagnostic Hospital 1017 South Travis St. Cleveland, TX 77327 281-622-2900 doctorsdiagnostichospital.com
Johns Hopkins Hospital
The Johns Hopkins Health System provides facilities with specialties in every type of medical care that includes research, education, training and patient activity programs. A number of physicians in different specialties work together to give patients high-quality comprehensive care that provides the most advanced medical treatments. Johns Hopkins Hospital was named one of the nation's best hospitals for 20 consecutive years in 16 specialties by U.S. News and World Report.
Johns Hopkins Hospital 600 N. Wolfe St. Baltimore, MD 21287 410-955-5000 hopkinsmedicine.org
References
Writer Bio
Cathryn Whitehead graduated from the University of Michigan in 1987. She has published numerous articles for various websites. Her poems have been published in several anthologies and on Poetry.com. Whitehead has done extensive research on health conditions and has a background in education, household management, music and child development.