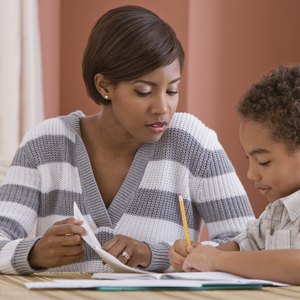 •••
Jupiterimages/Stockbyte/Getty Images
While at first glance it might appear that federal and state tax benefits apply to home schooling families, most home schools are not eligible for tax benefits. However, families in the states of Minnesota, Illinois and Louisiana are able to claim some state credits and deductions for educational expenses.
Federal Benefits
No federal tax deductions or educational credits are available to homeschooling families. K-12 teachers are typically allowed a $250 educator expense deduction, but it doesn't apply to homeschooling parents. The tuition and fees deduction is only available for post-secondary education, which means you can't take advantage of it until your child is pursuing college, vocational school or a certificate program. The same rule goes for the American Opportunity Tax Credit and the Lifetime Learning Credit.
State Tax Benefits
Some states do offer tax breaks for homeschooling families. Minnesota offers a tax credit of up to $1,000 per child for education expenses. The credit is targeted at low-income households, but high-income families can claim a tax deduction for students enrolled in a public school, private school or home school. The maximum deduction is $1,625 for children in grades K-6 and $2,500 for children in grades 7-12. Illinois has a similar tax credit that caps out at $500 per student. Louisiana also allows homeschooling families to deduct up to $5,000 per child in education expenses.
Exceptions for Home Schooled Children
Some states offer school and tuition credits, but specifically bar homeschooling families from claiming the deduction. For example, Iowa offers a tax credit of 25 percent of the first $1,000 of tuition or textbooks. However, the credit only is available if the child is enrolled in an accredited or approved school, which excludes home-schooled children. Texas also allows an educator deduction and considers home schools to be private schools by law. But there is debate among tax professionals regarding whether it's appropriate for home schooling families to claim that state educator deduction, so tread carefully before making such claims.
Creative Alternatives
If you're determined to get a tax break for the hard work you're putting in, consider teaming up with other parents to form a private school. It will take time, effort and paperwork to obtain nonprofit status and accreditation from the state. However, this opens you up to a whole new set of federal perks, state tax benefits and tax-free scholarships.
References
Writer Bio
Based in San Diego, Calif., Madison Garcia is a writer specializing in business topics. Garcia received her Master of Science in accountancy from San Diego State University.