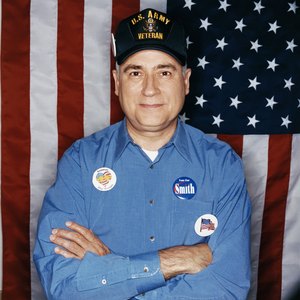 •••
Digital Vision./Digital Vision/Getty Images
Life in the military is characterized by deployments both within the country and abroad and this can be a challenge in settling down. One of the consequences of constant relocation is that some veterans may end up without a home due to circumstances such as disabilities incurred in the line of duty, resulting in a delay to purchase a suitable home. However, there are several programs available that help veterans access grants for the purchase of their homes through federal, state and private agencies.
The Dream Makers Grant
The Pentagon Federal Credit Union Foundation provides funding for the Dream Makers Grant. The program provides three-to-one matching funds offered for a down payment or the closing costs of purchasing a home, up to a maximum of $5,000. The grants are usually offered to veterans who intend to own a home for the first time. They are also available to veterans who have not owned a home in the previous 3 years or lost their homes through disaster or family circumstances such as divorce.
Military Housing Assistance Fund (MHAF)
Funded by private donors, such as companies and individuals who show appreciation for the men and women in uniform, The Military Housing Assistance Fund (MHAF) offers grants to cover the closing costs in the purchase of the home for military families and veterans. Amounts vary in accordance with the guidelines set by the Veteran's Administration, and depend on the purchase price and location of the home you intend to purchase.
Specially Adapted Housing (SAH) Grant
This grant is offered to veterans who need special facilities due to their disabilities. The funds can be used to purchase land, construct a new home or renovate an existing home. The VA can provide up to 50% of the total cost of the home. The grant is a bit flexible but has a maximum of $64,000 at the time of publication, which can be increased depending on the findings of annual evaluations. A qualified veteran can utilize this grant three times.
Homeowner's Assistance Program
Established in 1966, the Homeowners Assistance Program (HAP) originally assisted military homeowners required to relocate following the closure of a military base. However, the program has expanded to include wounded veterans and surviving spouses of military service members. The HAP benefits can only be requested for the primary residence of the applicant who sustained injuries in the line of duty, is disabled due to such injury or reassigned for further medical treatment or rehabilitation.
References
Writer Bio
Based in Los Angeles, Billy Max has been an assistant professor of mechanical engineering with a state university, and has been writing engineering and business and finance-related articles since 2005. His articles have appeared in IEEE Transactions and Business Solutions websites. Max holds a doctorate in engineering, and concentrates on technology, policy and business development.