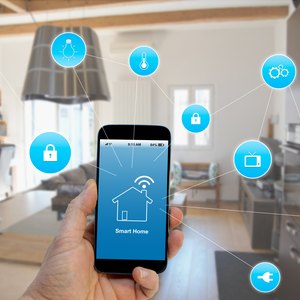 •••
Media Raw Stock/iStock/GettyImages
There's no mistaking that smart technology has found its way into nearly each aspect of everyday life, including the home. Home automation and smart home technology can help with various aspects of home life, from making sure your doors are locked to optimizing a thermostat for savings on your utility bill. But is smart home technology worth the investment in the long run? Before you can answer that question, you need to know which home automations work for your lifestyle and specific needs as well as your wallet.
Home Automation vs. Smart Technology
Although smart home technology falls under the umbrella of home automation, they're not quite the same. In its simplest form, home automation generally requires the user to control various appliances or home features with the assistance of a device such as a smartphone, remote, computer or tablet. Automated features can include blinds that you control with a remote or a washing machine that can be set to start a load of laundry at a specific time. These automated appliances typically do not require internet connectivity to operate and perform functions.
Smart home technology, on the other hand, uses AI or internet connectivity to perform tasks, and includes upgrades such as sensors, data storage, software or operating systems among a host of other functions. For example, a smart refrigerator can perform tasks like searching the internet for recipes, letting you know if you're running low on a certain item or syncing the various personal calendars of those in your household. Smart tech can perform a multitude of functions whereas home automation is typically only programmed to complete a specific task or set of tasks.
Smart Technology Rebates
Although smart appliances and other smart technology are generally more costly than their standard counterparts, there are rebates and credits available to help shoulder some of this additional cost. However, the lion's share of incentives and credits often go unredeemed. Many of these rebates and even utility rate discounts are available through the manufacturer, your local utilities company as well as the government. The savings and incentives are to reward consumers who make eco-friendly or sustainable product choices, so be sure to check for them when doing your smart upgrade homework.
The Los Angeles Department of Water and Power, for instance, offers a range of incentives including a $400 rebate for qualifying high-efficiency smart washing machines like the LG - 5.2 Cu. Ft. 14-Cycle Front-Loading Smart Wi-Fi Washer with TurboWash and Steam, and a $200 rebate for those upgrading to a qualifying smart sprinkler system like the Rachio – 8-zone 3rd Generation Smart Sprinkler Controller.
Smart Home Tech Worth the Cost
There is no shortage of choices available when it comes to the smart technology you can adopt for your home. Even though all of this technology can improve functionality and streamline your household, not all are going to help you realize savings. To get the most bang for your smart tech buck, first you should determine which upgrades or features you want to have in your home, and which will actually save money at the end of the day.
Smart Thermostats are a good place to begin making your investment in smart home technology pay off. Smart thermostats, such as Google's Nest Learning Thermostat, can reduce your heating costs by up to 12 percent annually and up to 15 percent on cooling costs; this results in an average savings of $131 to $145 per year. It retails for around $249, so the money you'll save means the unit pays for itself in under two years and will continue to save you money on heating and cooling costs annually.
Smart Lighting is not just for creating a cool ambience. Smart LED bulbs also save you money over standard light bulbs. The cost of LED light bulbs vary, but on average they can last up to 14 years, meaning you won't have to replace them as often. Smart bulbs only cost around $2.50 per bulb to operate annually, whereas the average incandescent bulb can cost approximately $15 per year. It may not seem like much of a savings, but if you count how many light bulbs you have in your home, then the savings become apparent. You can also pair your smart lighting with other devices such as a smart thermostat to minimize your energy consumption when you're away from home.
Smart Appliances include things like refrigerators, washers and dryers, air conditioners and dishwashers. And, when these appliances are integrated into a smart home hub, they can result in substantial savings by eliminating energy drain from items that are plugged in – but not in use – while reducing greenhouse gas emissions. According to Consumer Reports, appliances constitute a third of household energy consumption, with refrigerators and dryers being the costliest to operate. Smart refrigerators start at just over $2,000 and vary depending on features or level of connectivity, while smart dryers have an average starting cost in the $600 to $800 range.
The amount of money you're able to save does depend on a variety of factors. To better help you determine which appliances you should replace, or which smart home technology would be most worth the cost, then you should visit Energy.gov and use the agency's Appliance and Home Electronic Energy Use Estimator. This estimator can assist you in figuring out how much energy your various appliances are using, which in turn can help you decide on the appliances that are worth the investment of a smart upgrade.
References
Writer Bio
Tara Thomas is a Los Angeles-based writer and avid world traveler. Her articles appear in various online publications, including Sapling, PocketSense, Zacks, Livestrong, Modern Mom and SF Gate. Thomas has a Bachelor of Science in marine biology from California State University, Long Beach and spent 10 years as a mortgage consultant.