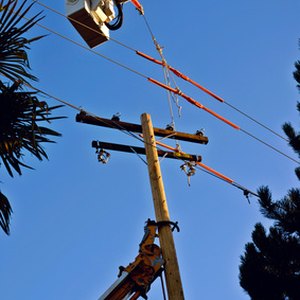 •••
Securing Power Lines image by Karin Lau from Fotolia.com
Utility bills are the expenses no one should ignore. Either you pay them or the services are cut off. Los Angeles residents who are financially struggling can get some help from utility companies and the government.
Temporary Energy Assistance for Families
Temporary Energy Assistance for Families offers one-time financial assistance to Southern California Gas Co. customers who are late in paying their bills because of unplanned hardships. If you have limited income and are a parent or guardian of a child under 18 years old, you may qualify to receive the help. U.S. citizenship of every member of the household is also a requirement.
Los Angeles Central Corps Salvation Army 906 S. Francisco St. Los Angeles, CA 90015 800-933-9677 213-438-0933 salvationarmy.org
Low-Income Home Energy Assistance Program
Funding for this program comes from the federal government. It offers three types of services: the Home Energy Assistance Program, Weatherization and the Energy Crisis Intervention Program. The Home Energy Assistance Program helps eligible families pay their utility bills. Weatherization provides free energy efficiency upgrades to the family's dwelling. The Energy Crisis Intervention Program assists those who receive a 24-hour or 48-hour disconnect notice. The state Department of Community Services and Development contracts with different charitable organizations to accept and process applications based on the ZIP codes of the applicants.
Maravilla Foundation 5729 E. Union Pacific Ave. Commerce, CA 90022 323-869-4500 maravilla.org
Pacific Asian Consortium in Employment 1055 Wilshire Blvd. Suite 900E Los Angeles, CA 90017 213-989-3233 pacela.org
Community Enhancement Services 16743 Schoenborn St. North Hills, CA 91343 818-891-4148, ext. 1 cesinla.org
Utility Assistance Program
There are two types of assistance under this program: the Energy Assistance Fund and the Gas Assistance Fund. Every year, Southern California Edison and the Southern California Gas Co. solicit funds from their customers and match the donations dollar for dollar. To qualify, a family's income should be within federal poverty guidelines. The approved applicant can get the maximum amount of $100 and can only receive help once a year.
United Way Inc. 1150 S. Olive St. Suite T500 Los Angeles, CA 90015 213-808-6257 unitedwayla.org
Writer Bio
Based in Burbank, Calif., Armina Hill started writing fiction novels in 1992. Her books were published and distributed by Books for Pleasure, Inc. She also translates books for Scripture Union and writes grant requests for a non-profit agency. Hill holds a Bachelor of Arts in mass communication from Far Eastern University, Manila, Philippines.