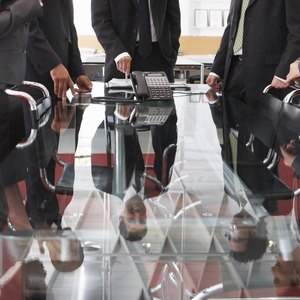 •••
Siri Stafford/Digital Vision/Getty Images
There's no ceiling on the price of a stock. That's the attraction of penny stocks. Pick the right one and you can make a bundle. The Securities and Exchange Commission defines a penny stock as one with a market price under $5 per share. Investing in penny stocks is risky, but there's always the chance that one will climb over the $5 mark and cease being a penny stock.
Some Penny Stock Success Stories
The Street says that companies with shares trading in the penny stock range don't often transition to "power stocks," but it does happen. In March 2001, shares of Concur, a supplier of employee management software and services, was trading at 31 cents per share following the collapse of the "dot com" bubble. The firm recovered and by 2013 the shares traded as high as $107. Pier 1 Imports, the home accessories and furniture retailer, ran into trouble during the "Great Recession" and the stock plummeted to 11 cents a share in March 2009. In January 2014, Pier 1 shares reached $20.64.
Penny Stocks: Risky Business
Be mindful of the risks if you want to by penny stocks. Liquidity may be limited, meaning you could find it difficult or impossible to sell shares. Most penny stocks don't trade on major exchanges, so reporting requirements are minimal, making it hard to find the information required to evaluate a company. Finally, although the SEC works to reduce fraud, scammers continue to prey on unwary penny stock investors.
References
Writer Bio
Based in Atlanta, Georgia, W D Adkins has been writing professionally since 2008. He writes about business, personal finance and careers. Adkins holds master's degrees in history and sociology from Georgia State University. He became a member of the Society of Professional Journalists in 2009.