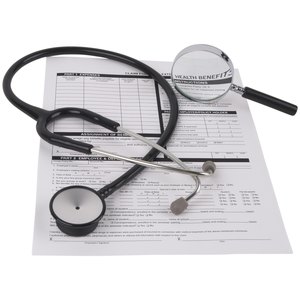 •••
PhotoObjects.net/PhotoObjects.net/Getty Images
Emerging trends, a shift toward prevention and insurance reform means healthcare marketing is experiencing a dramatic change, according to the American Marketing Association. That's why creating marketing objectives that work hand in hand with your overall business goals is important in helping your business find marketing strategies that get your message in front of various target markets who need healthcare services. By setting and meeting your objectives, your business can continue to help people get the help they need to be as healthy as possible.
Target Market
Reaching different target markets is a key marketing objective if you want a diverse patient list. This objective requires identifying the characteristics of each of your markets, such as baby boomers -- those born between 1946 and 1964 -- who are looking for healthcare solutions to increase their quality of life as they age. Yet younger generations, such as Generation Y, require a different approach. For instance, this group is far more tech-savvy, so your marketing efforts need to include providing health-related messages that are easily read on mobile phones and social media sites.
Regulations
Staying in compliance with federal regulations is another important objective. For instance, HIPAA restricts promotional activities by requiring you to seek a patient's approval before you use their personal medical information to sell or recommend products or services. The Stark Law is another regulation to which to adhere. This law requires you to avoid referring patients to another healthcare office that's owned by a family member or to make referrals if you have some kind of financial investment in that practice or business.
Education
Educating people about healthcare issues is another objective that results in helping people find out what types of services they need while building customer loyalty. To achieve this objective, set up tables at health fairs or women's trade shows to start building relationships with potential patients. Offer free screenings to help people prevent disease. Hand out literature about health topics while encouraging recipients to rely on your office when they need services.
Referrals
According to Healthcare Success Strategies, people buy healthcare services for emotional reasons and from people they trust. This means creating an objective about how encouraging more referrals from current patients is key to building your business. Seeking more referrals starts with taking extra steps to keep your current patients satisfied, such as keeping track of a patient's concerns so you address them at future appointments. Calling or emailing to schedule a follow-up is another way to build patient loyalty and encourage current patients to refer your practice to their friends and family.
References
Writer Bio
Nancy Wagner is a marketing strategist and speaker who started writing in 1998. She writes business plans for startups and established companies and teaches marketing and promotional tactics at local workshops. Wagner's business and marketing articles have appeared in "Home Business Journal," "Nation's Business," "Emerging Business" and "The Mortgage Press," among others. She holds a B.S. from Eastern Illinois University.