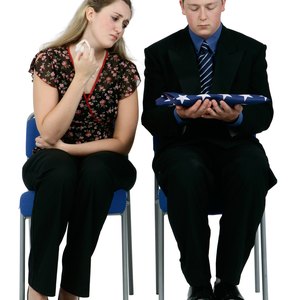 •••
PhotoObjects.net/PhotoObjects.net/Getty Images
Pension benefits are paid and regulated through the Department of Veterans Affairs for veterans receiving living benefits and surviving heirs. Whether a spouse or child will get benefits is contingent on whether the veteran met minimum criteria of service and whether the widow or children meet countable income levels. Death pension benefits cease as soon as the surviving spouse remarries or the child reaches age 18.
Veteran's Pension
When a veteran dies, notification must be sent to the Department of Veterans Affairs immediately. A death certificate is required to confirm the date of death. Once notification is received, the veteran's pension ceases. Beneficiaries must file for death pension benefits to continue receiving income for family support.
Eligibility
Call the Department of Veterans Affairs at 800-827-1000 to check the service history of the veteran. To qualify for death pension benefits, the veteran must have served at least 90 days in active duty and must have received an honorable discharge. The 90 days must include at least one day during a war period. To qualify, a beneficiary must be an unmarried surviving spouse or child under the age of 18. Children under the age of 23 but enrolled in school full-time are also eligible as are handicapped children who were deemed unable to support themselves prior to turning age 18.
Income Limits
Eligibility is determined by the countable income of the surviving family members. Death pension benefits are need-based. At the time of publication, a surviving spouse with no children must make less than $7,933; a spouse with one dependent child must make less than $10,385. Income limits increase by $2,020 per child. Other limits exist based on handicaps or orphaned children. Countable income is salary or wages, though some wages of dependent children may be exempt. Income from federal assistance is not countable.
Application
The application process begins by obtaining the VA Form 21-534, Application for Dependency and Indemnity Compensation, Death Pension and Accrued Benefits by Surviving Spouse or Child. The application provides all information regarding who you are, the veteran meeting eligibility requirements and any eligible dependents. You will be asked to include death certificates, marriage certificates and birth certificates or adoption records of dependents. Applications are sent to the Department of Veteran Affairs regional office nearest you.
References
Writer Bio
With more than 15 years of professional writing experience, Kimberlee finds it fun to take technical mumbo-jumbo and make it fun! Her first career was in financial services and insurance.