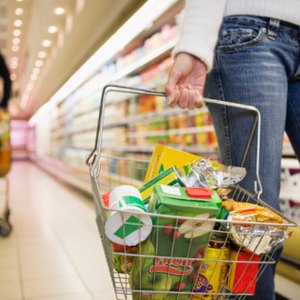 •••
Jupiterimages/Pixland/Getty Images
Hunger is a major concern among many American citizens today, as well as the U.S. government. With unemployment, bankruptcy and personal debt increasing nationwide, some people are finding it difficult to provide healthy and nutritional meals for their families. The good news is, many government and privately run agencies offer grants to help you afford groceries, or even open a grocery store.
Food Stamps
Some of the most well-known grocery grants in the U.S. are government food stamp programs. This type of grant program allows low-income families and individuals to purchase healthy and nutritious unprepared foods that they may not otherwise be able to afford. Most unprepared store-bought groceries are covered by food stamps with only a few exceptions, such as alcohol and pet foods. Qualified applicants typically receive a predetermined amount of food stamps on an ongoing monthly basis, and are required to report any changes in income between periodical case re-evaluations. You can apply for food stamp programs at your local state department of health and human services.
WIC Programs
National Women, Infant and Children (WIC) programs exist across the country to provide nutritional assistance to expectant or nursing mothers and their young children. The program is designed to help provide nutritional supplements -- like bread, milk, cheese and baby formula -- to mothers and children during times when they are at nutritional risk. WIC programs are administered by the United States Department of Agriculture's Food and Nutrition Service (USDA - FNS) and generally cater to low-income pregnant women, nursing mothers and parents of children up to 5 years old.
Food Pantries
In some instances, low-income families and individuals that are experiencing hunger can be granted access to public food pantries. Usually qualified applicants are issued a certain amount of grocery vouchers and allowed to redeem them for healthy non-perishable foods -- such as cereal, rice, canned fruits and vegetables or jars of baby food -- at food pantries. Many privately or government funded food pantries exist nationwide to prevent and reverse hunger issues across the country.
Grocery Store Grants
On a larger scale, many organizations provide grant opportunities to independent grocery store proprietors and community centers as well as low-income individuals and families. The Rainbow Organic Grocery Cooperative donates food and grocery vouchers to community centers who assist low-income citizens. If you are opening a grocery store, you may be eligible to qualify for financial assistance through Food Co-op Initiative grants. The Ashland Food Co-op provides assistance and grants to grocery store owners, community help centers and individual family units.
References
Writer Bio
Michelle Renee is a professional trainer and quality assurance consultant in the career, education and customer service industries, with two decades of experience in food/beverage and event coordinating management. Renee has been published by Lumino and Career Flight as well as various food, education and business publications.