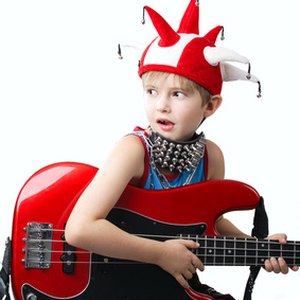 Many schools and community youth centers across America lack adequate funds to support music education for children and students. On the bright side, you can find a number of charitable organizations that are willing to help. Several private, corporate and government agencies award grants for youth music programs to children's facilities each year. Eligible applicants for such awards may receive funding in any amount from $500 to $150,000, or up to $5,000 worth of musical instruments.
The NAMM Foundation "WannaPlay" Fund
The NAMM (National Association Of Music Manufacturers) Foundation awards grants to youth music programs through its "WannaPlay" fund. The foundation focuses on enabling music teachers, schools and community centers in low-income areas to expand and reinstate music education programs for students and children of such communities. Grant awards may vary from case to case, but all public schools and community centers nationwide that service low-income children and families are invited to apply for funding.
Music For Youth Foundation
The Music For Youth Foundation (MYF) was founded in 1995 by Larry Rosen in hopes of raising funds to rehabilitate America's crumbling music programs and enable school-aged children to pursue musical education regardless of financial shortcomings. Since its inception, the foundation has raised and distributed more than $2.2 million dollars to over 40 music-related youth programs. A few of the many recipients of MYF grants include the Boys Choir of the Harlem Academy, The Young People's Chorus of New York City, Children's Aid Society Chorus and Harbor Conservatory for the Performing Arts, a division of Boys & Girls Harbor.
National Endowment For The Arts
The National Endowment For The Arts (NEA) is an independent government agency that supports creative excellence through innovative community music and arts programs nationwide. Since its 1965 inception, the NEA has contributed more than $4 billion dollars to support music and art programs across the country. US schools and youth oriented community centers who enhance and encourage artistic growth and education, musical or otherwise, are eligible to apply for the NEA's "Learning In The Arts" grants. Grants for music related projects can be requested in amounts anywhere from $5,000 to $150,000.
The Fender Music Foundation
Well-known guitar manufacturer Fender provides regular charitable contributions to youth music programs in need of assistance through The Fender Music Foundation. Though Fender does not offer cash awards, the foundation does grant youth-oriented music programs with needed instruments and equipment to function efficiently. Recipients of Fender grants typically receive anywhere from $500 to $5,000 worth of musical equipment and gear. Likely candidates to meet eligibility requirements for Fender grants are in-school music instruction, after-school music instruction and music therapy programs.
Resources
Writer Bio
Michelle Renee is a professional trainer and quality assurance consultant in the career, education and customer service industries, with two decades of experience in food/beverage and event coordinating management. Renee has been published by Lumino and Career Flight as well as various food, education and business publications.