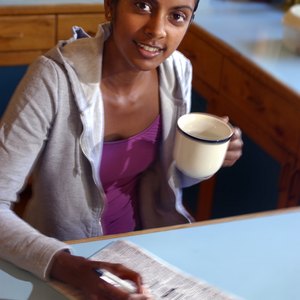 •••
Thinkstock Images/Comstock/Getty Images
Providing for your family as an unemployed woman is a daunting task. Besides using limited resources to feed and shelter your children, an unemployed woman's time is spent between looking for work and rearing their kids, leaving little left over for leisure. Women who are unemployed and require financial assistance can take advantage of an array of government programs meant to provide food, shelter and education and help unemployed women find new careers.
Federal Unemployment Insurance
Unemployed women who have lost their prior position of employment may be eligible for federal unemployment benefits that are grant-funded through the U.S. Department of Labor. The Federal-State Unemployment Insurance Program is designed to provide temporary assistance based on a employer tax levied by each state government. Eligibility requirements vary by state but typically require an unemployed woman to prove that she earned a certain amount of money during four of the last five quarters of the fiscal year. Unemployed women must also be unemployed through "no fault of [their] own," according to the labor department; this is also defined on a state by state basis.
USDA Women, Infants and Children (WIC)
The WIC Supplemental Nutrition Program, administered by the U.S. Department of Agriculture, provides financial support to unemployed women, especially those who are pregnant, postpartum or breast-feeding. Eligibility for the WIC nutrition program is restricted to female applicants with a household income that is under 185 percent of the U.S. Poverty Income Guidelines. In the United States, excepting Hawaii and Alaska, the poverty line for a family of four at the time of publication is $22,350; 185 percent of this poverty level is $41,378. Grants through the WIC program fund checks or vouchers used to purchase specific food items.
Pell Grants
Unemployed women can take advantage of various federal educational assistance programs to pay for schooling to enter a new career. One of these programs is the Pell Grant, available through the U.S. Department of Education. The education department awards up to $5,550 in Pell Grant aid to individual students as of the date of publication, depending upon their financial need, full-time education status and costs of tuition. Pell Grant funds can be used toward tuition, school books, transportation and other costs associated with education, including child care. Unemployed women who have been accepted by a college or university can apply by filing the Free Application for Federal Student Aid, or FAFSA.
Displaced Homemaker Program
Many state labor departments also provide programs for unemployed women residing within the state. New York State's Displaced Homemaker Program is designed to support anyone displaced from a career as an unpaid homemaker due to divorce, marital strife or other reasons. Grant-funded resources available through the Displaced Homemaker Program helps unemployed women pay for child care, transportation and housing. Other resources include crisis intervention, career counseling and referral to other community resources. As of April 2010, New York State maintained 22 centers across the state that help women apply for Displaced Homemaker Program benefits.