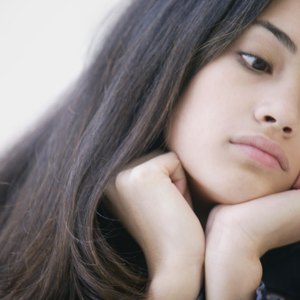 •••
Comstock/Comstock/Getty Images
Teens who are termed "at risk" may display rebellious behavior, experience learning difficulties, have depression or appear lazy. Adoption issues or poor family relationships may be adding to the problems of troubled teens who sometimes turn to alcohol or drug abuse or become overweight, and they may be at risk for gang membership. Fortunately, government grants aimed at helping young people are available.
Alternative School
YouthBuild is a federal youth and community development program of the U.S. Department of Labor that targets low-income youth from age 16 to allow them to earn a GED or high school diploma while learning job skills. Students who may have experienced foster care or homelessness, welfare and even encounters with the juvenile justice system build affordable housing in their communities. Most YouthBuild programs are administered by community and faith-based nonprofit organizations. The program includes aspects of an alternative school; a community service program; a job training program; a leadership development program; and a youth development program with counseling and support groups to overcome negative experiences and set productive goals.
Drug-Free Schools
To help prevent drug use, violence and delinquency, the U.S. Department of Education carries out the Safe and Drug-Free Schools and Communities Act. This state grant program supports science-based programs and activities to create a safe, disciplined and drug-free environment within schools. The grant gives priority to youth who need special services because of homelessness, runaway behavior, pregnancy, those in juvenile detention facilities and dropouts. The grant also encourages a comprehensive approach to dealing with troubled teens by advocating the incorporation of mental health services related to drugs and violence.
Delinquency Prevention
The U.S. Department of Justice provides a Community Prevention Grants Program to fund community-based delinquency prevention programs. The program encourages a multidisciplinary approach to solutions. It provides communities with funding and a guiding framework for developing and implementing comprehensive juvenile delinquency prevention plans. The grant helps communities develop a three-year juvenile delinquency prevention plan by reducing the risk factors associated with problematic juvenile behavior. The program is evaluated for its effectiveness in reducing juvenile delinquency long-term.
Gang-Free Schools
The Department of Justice funds a grant aimed at preventing the participation of youths in gang activities. This is accomplished through counseling and life skills education and other social services for teens. Crisis intervention is offered to juveniles at risk of becoming involved in gangs. In addition, grant money helps organize community groups to work with parents, schools, law enforcement officials and others to achieve this goal. Training is provided to adults who can provide constructive alternatives to teens who may become gang members. The grant also provides support and treatment for gang members who may have committed crimes.
References
Writer Bio
Sharon Penn is a writer based in South Florida. A professional writer since 1981, she has created numerous materials for a Princeton advertising agency. Her articles have appeared in "Golf Journal" and on industry blogs. Penn has traveled extensively, is an avid golfer and is eager to share her interests with her readers. She holds a Master of Science in Education.