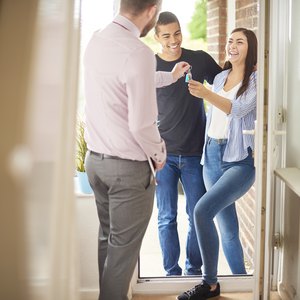 •••
sturti/E+/GettyImages
First time buyers sometimes face obstacles in obtaining homeownership, like lack of resources for a down payment and insufficient credit scores. In Ohio, aspiring first time buyers can choose from a range of assistance programs. Some are offered are statewide, while others are available to residents of particular communities.
OHFA First-Time Homebuyer Program
The Ohio Housing Finance Agency's First-Time Homebuyer Program offers loans and down payment assistance to prospective homebuyers who meet certain requirements. Applicants must never have owned real estate or not owned it within the past three years, or they must be active military personnel or veterans. They also must have a minimum credit score of 640 for conventional, VA, USDA and 203k loans and a minimum score of 660 for FHA loans. OHFA helps applicants secure Fannie Mae-backed loans, as well as government-insured loans such as those backed by the Federal Housing Administration, Veteran's Administration, and U.S. Department of Agriculture.
OHFA Down Payment Assistance
Borrowers who quality for an OHFA loan may also quality for the agency's Down Payment Assistance Program. Under the program, the agency provides borrowers either 2.5 or 5 percent of the purchase price of a home, which can be used to pay for down payments, closing costs, or other prepaid expenses incurred prior to closing. The loan rates for participants of the down payment assistance program are half a percent higher than other OHFA loans. The down payment assistance is issued as a second mortgage with a zero percent interest rate. Borrowers are not required to repay the loan if they remain in their homes for five years. If the home is sold or refinanced prior before the five-year mark, participants must repay the full amount of the loan.
Ohio Heroes Product
Individuals who work in select fields are eligible to participate in the Ohio Heroes Product program and receive loans with interest rates that are a quarter percent lower. Eligible occupations include active military personnel or veterans, firefighters or emergency service personnel, police officers, teachers, and healthcare workers. Participants must meet income and home purchase price limits, which vary according to the county where they live.
Cuyahoga Down Payment Assistance Program
First time home buyers who are residents of the greater Cleveland area are eligible to receive down payment assistance. The amounts received vary according to applicants' income levels and the median income in the area where they live. For instance, applicants who live in two-person households with incomes that do not exceed $43,450 are eligible to receive up to 17 percent of the sales price of a home and 5 percent of the purchase price toward the closing costs. Borrowers are not required to repay the money received until the home is sold or transferred. After living in the home for five years, 50 percent of the assistance amount is forgiven.
References
Writer Bio
Natalie Keith is currently a marketing copy editor for Boca Raton, Fla.-based book publisher Taylor & Francis Group. She has also been a journalist in Florida since 2004, specializing in real estate and construction. Among past assignments are writing and editing for publications such as Real Estate Weekly, New York Construction, Inman News, GlobeSt.com and Scaffold Industry magazine.