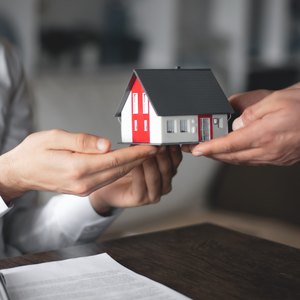 •••
Mahmud013/iStock/GettyImages
If you'd like to buy a house but don't have enough money for a down payment, you may want to consider the down payment assistance (DPA) programs offered by various states and local municipalities. These programs vary by each locality and offer combinations of grants and favorable loan terms.
Let's take a look at DPAs as well as several federal government programs that offer mortgages with either zero or very low down payments.
What Are Down Payment Assistance Programs?
DPA programs give home buyers money to cover all or part of the down payment for a house. In some cases, they also help with paying closing costs.
These DPA programs are offered by numerous state and local government agencies. They usually come as grants or loans with flexible and favorable terms:
Grants that cover part or all of a down payment and don't have to be repaid
Second mortgages that have monthly repayments along with your primary mortgage
Second mortgages that must be repaid when you move, sell or refinance
Second mortgages that are forgivable after a certain number of years, ​five years​ in most cases, but could be up to ​15 or 20 years​. These loans would only be repaid if you move, sell or refinance before the end of the forgivable period.
Interest rates for DPA second mortgages vary. Some are interest free while the interest rate on others can be either higher or lower than the rate on your first mortgage.
How to Qualify for a Down Payment Assistance Program
Down payment assistance programs are usually designed for first-time homebuyers. However, a home buyer could be considered first time if they haven't owned a house in the previous three years.
Generally, buyers must have low-to-moderate incomes, and the properties may be in areas targeted for renewal efforts. The terms and eligibility for DPA programs vary by state and may include grants that do not have to be repaid as well as loans with payments that can be deferred or forgiven until the property is sold.
FHA (Federal Housing Administration) and HUD (Department of Housing and Urban Development) have listings of DPA programs for each state.
What Is the Good Neighbor Next Door Program?
One outstanding program that the federal government offers is the Good Neighbor Next Door grant program from HUD. This program gives you a ​50 percent discount​ off the list price of the home. However, it's only available for the following groups of home buyers:
Firefighters
Law enforcement officers
Emergency medical technicians
Teachers for grades from pre-kindergarten through the 12th grade
In addition, qualified buyers must agree to live in a government-designated "revitalization area" for ​three years​. These are usually neighborhoods that are currently struggling, and the government is trying to upgrade homeownership in the area by bringing in new homeowners.
What Is the USDA Loan Program?
The U.S. Department of Agriculture provides financial assistance for homebuyers who are willing to live in rural areas.
​Loan guarantees​ - The USDA guarantees a mortgage issued by a local lender. The loan is at a low interest rate and does not require a down payment. However, you're charged a mortgage insurance premium.
​Direct loans​ - The USDA provides direct loans for home buyers with low and very low incomes at interest rates as low as ​1 percent​. These mortgages are for applicants who could not be approved by traditional lending standards.
​Home improvement grants and loans​ - If you want to upgrade or repair your home, the USDA gives you a loan or a free grant ​up to $27,500​.
Qualification for these loans and grants depend on your income not exceeding certain limits, depending on the county where you live. Each county has its own maximum income limit.
Generally, you can qualify for USDA financial assistance if your credit score is ​above​ ​640​. If your credit score is ​below 640​, you have to pass stricter underwriting requirements, but you may also qualify with a nontraditional credit history.
What Are Veterans Administration Mortgages?
A VA loan is a mortgage provided by a private lender and partially guaranteed by the U.S. Department of Veterans Affairs. It's available to active and past service members of the military and their spouses.
The best part of VA loans is that they do not require a down payment. You can literally purchase a home as a primary residence with no out-of-pocket costs. Even closing costs and the VA funding fee can be included in the mortgage amount, although this increases your monthly mortgage payment. There is no private mortgage insurance required for VA loans like you'd have with a conventional mortgage.
Because of the government guarantee, vendors are slightly more flexible with credit requirements. Most VA lenders accept credit scores as low as ​620​. Currently, the maximum loan amount you can get with a VA guarantee is ​$510,400​.
How Do FHA Loans Work?
Although they don't offer a ​zero down payment​ option, you can get an FHA mortgage with as little as ​3.5 percent​ down. Even better, you can qualify for a Federal Housing Administration mortgage with a credit score as low as ​580​. If your credit score is ​below 580​, you can still qualify for an FHA loan, but you'll have to make a ​10 percent​ down payment.
The biggest advantage of FHA Loans is that they're willing to work with home buyers with less-than-stellar credit histories. Borrowers with credit scores as low as ​500​ can still qualify if they make a higher down payment. FHA will even accept applicants who have been out of bankruptcy for at least ​two years​.
What Are Fannie Mae HomePath Properties?
If you're looking to buy a house at a bargain price, the HomePath® program at Fannie Mae may be a good source. These are foreclosed properties that Fannie Mae now owns and wants to sell to owner-occupants or investors. Many of these properties are in good condition, but others may require a considerable amount of repair work.
When a property is initially listed by Fannie Mae, it appears on its FirstLook™ program. This program gives buyers who intend to occupy the property as their primary residence ​20 days​ to purchase the house. After that period expires, the bidding is open to all investors.
Fannie Mae's foreclosure properties come with special price discounts and financing options. In addition, Fannie Mae provides ​up to 3 percent​ in closing cost assistance as a grant to pay closing costs. However, you have to take a buyer education course to take advantage of these benefits.
What Is the Freddie Mac HFA Advantage Program?
Freddie Mac's HFA Advantage® program makes it easier for low-to-moderate income families when home buying. Freddie Mac partners with state and local housing finance agencies (HFAs) to offer mortgages with a ​3 percent​ down payment through its Home Possible® program, and then have all or part of the down payment funded by the HFA with grants or flexible second mortgages.
When you need a first-time home buyer grant or flexible loan to buy a house, the best place to look is local down payment assistance programs. Each program has different benefits and requirements for qualification. If these first-time homebuyer programs don't work for you, the next step is to look at the ​zero and low down payment​ mortgage programs.
References
Writer Bio
James Woodruff has been a management consultant to more than 1,000 small businesses. As a senior management consultant and owner, he used his technical expertise to conduct an analysis of a company's operational, financial and business management issues. James has been writing business and finance related topics for work.chron, bizfluent.com, smallbusiness.chron.com and e-commerce websites since 2007. He graduated from Georgia Tech with a Bachelor of Mechanical Engineering and received an MBA from Columbia University.