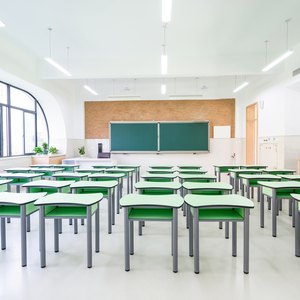 •••
loveguli/E+/GettyImages
There are many organizations that give support to schools for equipment such as furniture. Some give money, while others give the physical equipment itself. The best thing about grants is that they don't have to be paid back.
Contact Good360
Good360 provides school supplies, diapers, toys, furniture, clothes, computers to schools with nonprofit status. You can register on the organization's website to become a Good360 member. Your school will need to be a recognized as a nonprofit with tax-exempt status. Once you've been approved, you'll be able to shop Good360's online catalog of donated items and choose what you need for your school.
Call the Toshiba America Foundation
Toshiba America Foundation has specific grants with set deadlines, as well as general grants of $5,000, where applications can be sent at any time. To apply, visit Toshiba's website. Prior to applying, though, you can call 212-596-0620 to learn more about grant opportunities and guidelines.
Try for Preservation Assistance Grants
If you have a qualifying small school, the National Endowment for the Humanities' Preservation Assistance Grants for Smaller Institutions grant may be an option. This grant offers assistance of up to $10,000 to schools to help preserve their humanities collections. This includes furniture.
Use the Laura Bush Foundation
If your school was impacted by one of 2017's natural disasters, you may qualify for funding from the Laura Bush Foundation. The goal of the project is to rebuild libraries that were affected by Hurricanes Harvey, Irma and Maria, as well as the California wildfires. You must apply via the online application form. Once you've used the money, you'll be required to submit a grant report form to demonstrate how the money was used and what the impact was on your school.
Obtain American HONDA Foundation Grants
HONDA issues grants of up to $75,000 to schools with a STEM focus that may include the purchase of general items like furniture. The foundation's priority is on programs specifically in the areas of science, technology, engineering, mathematics, the environment, job training and literacy. To apply, you'll first need to take an eligibility quiz on the HONDA Foundation's website to determine if your school meets the criteria.
Contact the National Education Association
The National Education Association awards a variety of grants to schools throughout the year. Requirements, awards and application processes vary. Your regional director can help connect you with the right NEA grant to meet your needs or you can visit the NEA's website for more information.
References
Writer Bio
Michele A. Clarke has been a writer for over 30 years. She enjoys writing articles on health care. She has a bachelors degree from the University of Albany in Biology and Sociology. She has worked for many years as a grant writer and health care consultant. Michele has written a wide variety of e-books and is working on her first novel.