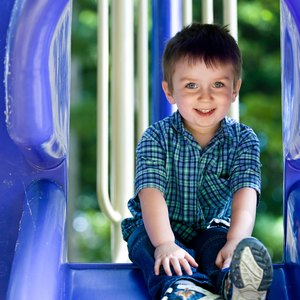 •••
Jupiterimages/Photos.com/Getty Images
Thousands of kids attend preschools in communities across the United States each year. Preschools needing to purchase, replace and set up playground equipment apply for grants sponsored by government agencies. Federal and state agencies sponsor grants that also cover land acquisitions and facility renovation projects to install playground equipment as well as labor and administrative costs.
Community Facilities Grant Program
Preschools in rural areas can apply for grants to construct, renovate or expand their playgrounds and purchase equipment from the U.S. Department of Agriculture (USDA). The Community Facilities Grant Program awards grants to nonprofit organizations and to municipalities, towns and districts with less than 20,000 residents to construct and improve facilities used for public safety, community, health care and public purposes. Areas with the lowest income and population levels receive higher priorities for funding by the program. Grants cover up to 75 percent of approved project costs.
Community Facilities Grants
Preschools in urban communities needing playground equipment can apply for grants funded by the Department of Housing and Urban Development (HUD). Community Entitlement grants are used to purchase land, construct or renovate public facilities, neighborhood centers and residential and non-residential buildings.
Child Care Access Means Parents in School
The Department of Education (DOE) funds grants for colleges and universities across the country to implement childcare services for low-income parents attending classes. These services are provided before and after school hours. Grants are used at the schools' discretion, however funds cannot support construction projects unless they're necessary to meet state and local health or safety standards.
State Grants
Grants from state government agencies are available to preschools to purchase and install playground equipment. For example, Alaska's Department of Education funds Preschool Pilot Grants for school districts to implement preschool programs. The Early Education Initiatives (EEI) and Essential Early Education (EEE) are preschool programs funded by Vermont's Department of Education. Preschools and school districts in other states can contact their department of education for grant opportunities.