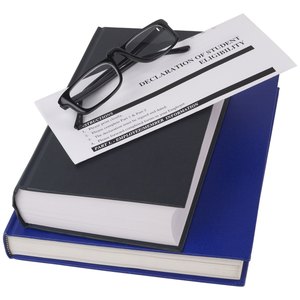 •••
PhotoObjects.net/PhotoObjects.net/Getty Images
Finding grants for people on Social Security disability requires an understanding of how most grant processes work. In most cases, being acknowledged by the federal government as being disabled provides a person with an advantage in attaining grants for continuing education, job retraining or even the purchase of equipment needed to help keep a disabled person engaged with the community. All grants, whether issued by the federal government, a state or a private entity, accept the fact that a person is on Social Security disability as proof of need. The most important part of finding and getting a grant is a targeted search.
Back to School
Because Social Security disability funding covers only necessary living expenses, there are scholarship programs designed to help people with disabilities supplement their income by going back to school and earning a degree that will help them find a job. Some scholarships are disability-specific, others are part of a larger program, but all scholarships are grants, meaning they need not be repaid. For example, a Trio Student Support Services grant is available to any disabled prospective student. Grants may be contingent on maintaining a certain GPA in order to receive funding each semester.
Greater Community Engagement
In addition to providing the regular Social Security Disability grants, the Social Security Administration (SSA) provides grants to workers for job training and to community projects that help workers with disabilities find employment. While the personal grants for job training are available through the SSA, it is important to understand the program is aimed at finding beneficiaries jobs that will allow them to transition in part or in full from the Social Security Disabilities Benefit Program. Training grants, however, allow a person to increase their earning potential.
Medical Equipment Grants
Finding funding to purchase or upgrade medical equipment can be difficult. There are state, federal and private grants that cover the cost of medical equipment not covered by Medicare or Social Security. As with the education grants, these can be contingent. There are grants for rehabilitation, for instance, that exclude permanent use, and vice versa. Many federal government websites provide a clearinghouse for federal, state and private grant programs; some can even help applicants search for the program that is appropriate.
Access to Loans
Although it doesn't provide grants to those with disabilities, the Small Business Administration has a low-interest loan program and other resources to help people with disabilities start their own businesses. Businesses owned by the disabled, and especially businesses owned by combat-disabled veterans, can be eligible for state and federal contracts from which other businesses are excluded. Disabled-owned businesses also have an advantage in the bidding process. Additionally, each state department of health and human services has an office for helping would-be disabled entrepreneurs.
References
Writer Bio
Tony Russo has been a general assignment reporter and an editor for weekly and daily community newspapers since 2004. He is a business blogger for several regional websites and produces a weekly news and entertainment podcast.