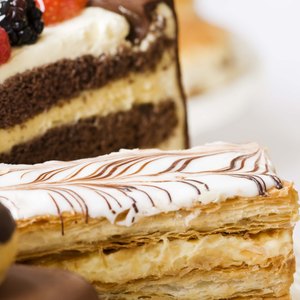 •••
Jupiterimages/Polka Dot/Getty Images
Grants to open bakeries help entrepreneurs start a business, upgrade a home business to a retail location or renovate a storefront and take the business to a higher level. Grants give the community more bakery products and more attractive shops. Some grant winners also structure their business plans to create jobs and positive social change and contribute to economic growth in areas unlikely to benefit under usual circumstances.
Championing A Social Cause
In Phoenix, Arizona, Sweet Inde Bakery (short for sweet independence) is a nonprofit bakery that provides job training opportunities for people with disabilities to earn a living wage in their community. Kristen Bean, a doctoral student in the Arizona State University (ASU) School of Social Work, together with community members Jolene De Tiege and Michael Cline, received a $2,000 Challenges Innovator grant through the ASU Innovation Challenge competition to establish Sweet Inde Bakery in 2010. The competition provides seed funding for creative student ventures. This bakery concept enables people to bake goods at the Phoenix Disability Empowerment Center and sell their products locally. The proceeds go toward scholarships and grants for continuing education for those with disabilities to realize their own entrepreneurial ventures for physical and economic independence.
Offering Jobs for the Disabled
In 2010, the Hattie's Cafe & Gifts franchise in Akron, Ohio, introduced a new feature, its own bakery. Akron Mayor Don Plusquellic attended the grand opening on September 21 in support of this venture made possible with a grant from The Mayor's Office of Economic Development. The cafe's social enterprise program means that the bakery employs workers with developmental disabilities. The bakery makes cookies, brownies, sandwiches, salads and more.
Filling A Vacant Shop Space
In 2011, a French bakery, Doux Crème, received a $35,000 grant to open in a vacant space in Barrington, Illinois, thanks to the Department of Economic and Community Development. The department's grant money comes from a $100,000 fund allocated to boost retail business in the Village Center Tax Increment Financing District. A $10,000 facade grant paid for the refurbished storefront on Main Street with replaced front door, window and signage. A business assistance matching funds grant of $25,000 covered compliance with the Americans with Disabilities Act, fire suppression and other codes requiring installation of a sprinkler and fire alarm system, upgraded electrical system and other facilities. Doux Crème sells pastries, breads and cupcakes.
Green Light for Projects
The All Over Albany (AOA) website partners with Sunmark Federal Credit Union to offer the Sunmark Startup Grant that enables one microenterprise to go forward. Eligible enterprises include bakeries in Albany, New York. Applications to alloveralbany.com must include a brief personal biography, details of the proposed project, an image or video if available and an explanation of how the grant would help. Website voting determines two finalists and the editors select the third finalist. The three finalists each make a 20-minute presentation to the judges who select the winner. As of 2011, the value of the grant was $1,500.
References
Writer Bio
Based in Northern California, Maureen Katemopoulos has been a freelance writer for more than 25 years. Her articles on travel, the arts, cuisine and history have appeared in publications such as "Stanislaus Magazine," "Orientations," "The Asia Magazine" and "The Peninsula Group Magazine." She holds a Baccalaureate degree in journalism from Stanford University.